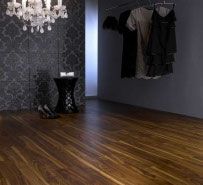 Amtico International, is the most technological advanced flooring manufacture in the world. Amtico is an innovator in durable flooring for both home and office.
Belmont. CA (Vocus/PRWEB) February 04, 2011
Amtico International, a world innovator in durable flooring solutions, has launched a collection of flooring choices inspired by the look of walnut and tropical woods. The collections reflect the trend in chocolate tones and rich stylishness. Beau Monde Fine Floor Coverings of Belmont is now carrying the Tropical Woods and Walnut collections from Amtico International.
Amtico's tropical woods collection includes Tigerwood, Merabu, Caramel Bamboo, and Brazilian Rosewood. Amtico Tigerwood has dramatically contrasting golden patterning and an exotic allure. It is the perfect partner for the jewel tones, metals and silks of our modern take on eastern style, while Amtico Merbau's warm red tones and unique flecked grain gives an exotic finish to complement many different kinds of interior styles
Amtico Caramel Bamboo retains the lovely linear grain but has a more sophisticated butterscotch tone that will create a calm, contemporary space. The Brazilian Rosewood perfectly captures the chocolatey good looks of the original. It provides the perfect partner for today's luxury materials and darker schemes
"Amtico International, established in 1964, is the most technological advanced flooring manufacture in the world," said Michael Kazarian, owner of Beau Monde Fine Floor Coverings. "Amtico is an innovator in durable flooring for both home and office."
The new product line includes several choices of mood. Classic Walnut has subtle cocoa tones with a shimmering dusty finish. Wild Walnut turns up the contrast with rich chocolate colors interspersed with slices of vanilla. Both options feature the unique grain of walnut, and can be cut a number of different ways to display the beauty of the finish.
Walnut flooring has a striking appearance, but can be rather expensive. Amtico's new line brings all the beauty of genuine walnut without the high installation costs. "Despite its splendor, walnut has been a less common choice for floors in the past because of the expense of installations. With Amtico's Walnut Collections, this is all about to change," said Lewis. "We make this wood more accessible by giving everyone the change to enjoy this elegant material to create a backdrop for their own style."
Traditionally, walnut has also not been the most commonly used wood floor, because it is softer than other woods and therefore may require more maintenance. Amtico solves this problem with its superior durability. Unlike wood, Amtico will not crack, splinter, warp or rot. It does not need to be sanded and does not fade in color over time. And it is highly resistant to scratches, spills, moisture or corrosion.
The Walnut Collection from Amtico International can be seen in person at Beau Monde Fine Floor Coverings in Belmont. Beau Monde also features many other Amtico options, with looks ranging from wood to stone to metal, all with Amtico's superior durability, warmth and eco-friendliness.
For more information about Amtico International's tropical woods or walnut flooring options, or any other Amtico lines available from Beau Monde, call (650) 264-7918, visit their website at: http://www.beaumondefloorsba.com, or stop by their showroom at 1343 Old County Road in Belmont.
About Beau Monde Fine Floor Coverings
Founded in 1983, Beau Monde Fine Floor Coverings in Belmont is a S an Francisco Bay Area flooring company that specializes in natural and environmentally responsible flooring and wool carpeting.
Beau Monde is one of the Bay Area's premier distributors of Amtico flooring products that simulate the appearance of authentic wood and stone. Certified flooring specialists can assist homeowners and businesses with any or all phases of flooring installation, from design and planning to colors and pattern consultation to full job completion.
###