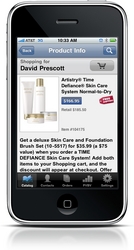 The Amway app offers a tremendous competitive advantage for our distributors
Ada, MI (PRWEB) December 2, 2009
Direct selling giant Amway has launched the most robust and innovative application for the Apple iPhone and iPod Touch in the direct selling industry. Through the expertise of leading mobile application developer, Übermind, Inc., Amway is ushering in a new era of commerce for its distributors and consumers.
Amway this month is deploying its iPhone app to distributors in its U.S. and Canadian affiliate, giving them crucial business functionality on the iPhone or iPod Touch product. Key features include customer relationship management tools, product and marketing information, safe point-of-sale order processing, and personal business performance tracking and reporting. Version 1.0 of iPhone app is Amway's first step in a major initiative to help its distributors do business any time, anywhere through a powerful, easy to use tool that is always at their fingertips.
Providing this app with an unprecedented level of user-driven flexibility on such a large scope was by no means a small feat. The developer, Übermind, highlighted that, "The app is built to be extremely flexible in terms of the order in which information is gathered from the customer during the sales process, which sounds simple, but is complex in terms of implementation to achieve a fluid sales experience for every user."
Another hurdle for the application to overcome was to provide dependability in scenarios when distributors may not have consistent cellular or Wi-Fi connectivity, e.g. geographic regions receiving poor reception or airplanes without Internet connectivity. "In-app downloading, updating product information, and in processing transactions, security and reliability were key to the final solution" said Übermind, who also noted that "the Amway app can be downloaded from the App Store through a cellular or Wi-Fi connection, in a sub-10 megabyte state in order to meet the iPhone's downloading parameters when using the cellular network."
Once installed, the app proceeds to update the entire catalog on the device, thereafter network connectivity is no longer required for use of the app, with the exception of updating content and finalizing orders. With this approach, there is no compromise; users enjoy the best usability characteristics of both a native iPhone app (leverages iPhone hardware, is always available) and a web-base mobile solution (up-to-date information). Allowing Amway distributors to operate their business from virtually anywhere was a primary objective of the application and something that Amway feels has been successfully achieved.
"The Amway app offers a tremendous competitive advantage for our distributors,"  said Candace Matthews, Amway's chief marketing officer.  "The app enables our distributors to showcase to our customers our health and beauty products, demonstrate how they work through video and other business tools,  and place an order. It's a powerful tool that will help them be more productive and sell more, from the palm of their hands."
Amway, is one of the world's largest direct selling companies. Founded in 1959 by Jay Van Andel and Rich DeVos, Amway operates in more than 80 countries and territories in Asia, Africa, Australia, Europe, and the Americas. Amway offers the opportunity for people to have a business of their own based on retailing beauty, nutritional, wellness, and household products and sharing the opportunity with others who will do the same. More than 3 million Amway distributors worldwide market the company's products.
Founded in 1999, Übermind, Inc. is a full-service software engineering firm and a recognized leader in the development and design of custom software for desktop, web, and mobile platforms. Since its inception, Übermind's focus has included the technologies that are now central to the most visible, next-generation mobile devices. Past and current projects include development of the largest B2B iPhone application, one of the most-trafficked sites on the Internet, comprehensive e-Commerce and m-Commerce solutions, and work on the largest digital distribution platform in the world. The firm's multinational clients include AllRecipes, Amway, Apple, GREY, MasterCard, McCann Erickson, and Summit Entertainment (Twilight Film Saga).
To learn more about Übermind or mobile application development, please visit our website.
Media Inquiries:
Ryan Peterson
Übermind, Inc.
+1-206-371-3366
Beth Dornan or Steve Duthie
Amway Public Relations
+1616-787-7565
###