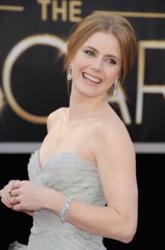 Amy Adams hit the red carpet wearing 92 carats of diamond jewellery at a value of US $1 million all designed and crafted by Mouawad.
Los Angeles (PRWEB) February 25, 2013
The Best Supporting Actress nominee Amy Adams hit the red carpet wearing 12.67 carat diamond and white gold earrings, a 68.30 carat diamond and platinum bracelet, and a 10.67 carat diamond and white gold ring. The suite designed and crafted by Mouawad is valued at $1,000,000.
Mouawad, a luxury jewellery and watch company with over a century of heritage, is renowned for being among the favourite jeweller of celebrities. Mouawad's magnificent haute joaillerie and masterpieces have previously adorned numerous Hollywood A-list actresses.
About Mouawad
Mouawad– Enchanting customers with magnificent jewels since 1890
Led by 4th generation Co-Guardians, Fred, Alain & Pascal Mouawad, and backed by more than a century of excellence in its field, Mouawad remains a family business built upon artistic excellence, superb craftsmanship, trust and relationships. Mouawad designs, manufactures and sells its own exclusive jewellery and timepiece collections ranging from boutique items to objects of art and magnificent haute joaillerie masterpieces. The Mouawad brand has penetrated continents across the world, while retaining its eminent position as jewellers to royalty, high society, celebrities and those that appreciate the finest standards of dazzling craftsmanship. The passion at Mouawad has always been to enchant and build lifelong relationships with customers by offering a wide range of jewels and timepieces for all occasions.
In addition to its jewellery and timepiece design and production, Mouawad also manufactures rough diamonds as a Diamond Trading Company (DTC) Sightholder through its joint venture company, Premier Diamond Alliance.
Diamonds and gemology have always been a passion for the Mouawads and besides crafting fine jewellery, over the years the Mouawad family has acquired some of the largest and rarest diamonds in the world and many of these historic gems carry Mouawad as part of their designated name. The family's on-going support of the global industry through research and education led to third generation, Robert Mouawad, receiving a Lifetime Achievement Award from the Gemological Institute of America (GIA) and of having the GIA campus named in his honour. Guinness has honoured Mouawad on three occasions with world records: in 2010 for the Mouawad 1001 Nights Diamond Purse – the most valuable handbag in the world (US$3.8 million), in 2003 for the Very Sexy Fantasy Bra – the most luxurious and expensive piece of lingerie ever made (US$11 million), and in 1990 for the Mouawad Splendor – at the time, the most expensive single pear-shaped diamond (101.84 carats; US$12.76 million).
The Mouawad vision is to continue the rich heritage of Mouawad by maintaining the focus on fine jewellery and watches while widening distribution through contemporary and accessible price points in order to increase the reach of the brand internationally.