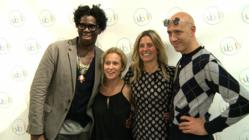 New York, NY (PRWEB) November 13, 2012
The Bubble Foundation, a 501(c)(3) organization that partners with New York City charter schools to educate children in underserved communities with free nutrition and fitness programs, has been designated as a 2013 beneficiary organization of treasure&bond, the philanthropy-based store in Soho. Bubble provides custom nutrition and fitness curricula at no cost to schools which lack the means to provide health and wellness programs to students.
"This is a key development for Bubble, which will allow us to expand our programming to reach more students," said Amy Nauiokas, Co-Founder of Bubble. "We are grateful to treasure&bond shoppers and our supporters."
The Nordstrom-owned boutique located at 350 West Broadway in Soho designates 100% of profits to nonprofit organizations benefiting NYC children. An in-store voting process was held during the month of October for the selection of treasure&bond's 2013 beneficiary organizations, and Bubble, along with 3 additional children's charities, was named a Finalist.
Bubble supporters Celebrity Stylist and Tastemaker Robert Verdi and America's Next Top Model Walking Coach and Judge Miss J. Alexander hosted Bubble's Kids Fall Fashion Trends Runway Show at treasure&bond on October 24 in celebration of National Food Day. Additional Bubble supporters in attendance included Harry Harrison, Head of Rates Trading, Barclays; Beth Bugdaycay, CEO, Rebecca Taylor; Bubble Co-Founder and Chef James Connolly, and Catherine Gund, president of Aubin Pictures.
The kids fashion show featured clothing by Peek, Carolina Amato Accessories, Bliss Lau Jewelry; Claudio Cutuli Minature, by boe accessories; Grace Hats; Marat Superstar; Thursday Friday bags and STRANGEBEAUTIFUL™ nail polish. Aspiring fashion designers Graydon, 8, and Tenzin, 8, produced the runway show, which featured youth models wearing three of their designs.
Bubble programs complement and expand upon a charter school's current efforts, filling in gaps left by lack of funding, resources, or information. Through fun activities, learning adventures, and food programs, Bubble educates students about fresh, healthy eating and lifestyles to help him or her lead a happy, healthy life. Bubble works with each school to target and address the needs of the children it serves with custom programs, offered free of charge, that support specific school goals for a two year partnership. Together with Bubble, the schools build a foundation to implement and fund their own pr­ograms beyond the startup time period.
The Bubble curriculum currently reaches K-5 students at area charter schools including DREAM Charter School in East Harlem, the Heketi Community Charter School in the South Bronx, the Neighborhood Charter School of Harlem, and PAVE Academy Charter School of Brooklyn. More than 400 students have already participated in Bubble programs since its establishment in 2010.
Added Amy, "Many kids and their parents tell us and the charter schools that Bubble programming is making a difference in young lives. One mother said her children, who participate in Bubble programs, now prefer fresh, healthy foods to fast foods, which has been a very positive change in behavior. We hope to recruit more volunteers, and link with additional sponsors and community partners to further expand Bubble."
Bubble offers students monthly cooking lessons through a partnership with Whole Foods Market's Wellness Club in Tribeca. Other partners of Bubble Foundation include Harlem Seeds, Red Rabbit, Harlem RBI and Angelica's Kitchen. Bubble is accepting applications from Charter Schools for the 2013/2014 school year. To learn more about Bubble and to support its efforts, please visit http://www.welcometobubble.org.
Additional images of the Bubble Runway Show can be found online at http://www.patrickmcmullan.com/site/event_detail.aspx?eid=42399.
# # #
About treasure&bond
At treasure&bond, every purchase we ring up generates change – 100% of all our after-cost profits go directly to programs that benefit people in need, right here in our own community.
Located at the intersection of retail and philanthropy, Nordstrom-owned treasure&bond is more than just a store, it's an exciting concept in giving that has, at its core, one simple goal: To help people help people – and to do so with wit, imagination and style.
About Bubble
The Bubble Foundation is dedicated to providing at risk children in New York City access to activities and food that help him or her to live a healthy and happy life through partnerships with charter schools that shares this mission. Together, we design a nutrition and fitness program that complements and expands on the school's current efforts, filling in gaps left by lack of funding, resources, or sometimes information. Through fun activities, learning adventures, and food programs, we provide the foundation for building a lifetime of knowledge. Co-Founded in 2010 by Amy Nauiokas and James Connolly, Bubble is designated as a 501(c) (3) not-for-profit organization.