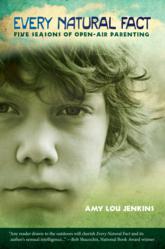 It's easy to begin a better life and build closer relationships as you move, step by step, in a natural place and pace. A regular practice of interaction with wild places really does change your life.
Milwaukee, WI (PRWEB) April 28, 2011
On May 14th 2011 the Council for Wisconsin Writers will present the Ellis / Henderson Award for Outdoor writing to Amy Lou Jenkins for her essay collection 'Every Natural Fact: Five Seasons of Open-Air Parenting'.
While you might find 'Every Natural Fact' in the parenting isle of your favorite bookstore, Jenkins did not set out to write a book about parenting. This is not a "how-to" book. Jenkins would rather that parents found their own ways and rhythms to be outdoors with their children. She and her teenage son explore the questions each generation must ask anew.
"Leave the electronic world behind and find a deeper engagement with your world and with the people you love. A nature walk helps you to find the natural flow to a conversation and a thought—something that's hard to come by in our scheduled and device-dominated world," says Jenkins.
Readers will find ruminations and parent-teen interactions about natural history, the nature of death, personal spirituality, human potential, tolerance, our rural and natural heritage, and more. You don't have to be a parent to care about these issues.
The fact that the average child spends about nine minutes a day outdoors and cannot name the type of ecosystem they live in, or their watershed, or the names of the trees, plants, birds, and other forms of life in their community bothers Jenkins. She writes, "How do we, and how will our children, understand how to have dominion over a natural world when we only know summer nights by the comfort of lying in bed in a sealed room while the air conditioner blows away the feeling of the season? Most of us don't hear the loon call at sunset. We are not accustomed to the baritone gulp of the bullfrogs."
Join mother and son on ten nature walks. Laugh at their silliness; watch them develop a way to find their own thoughts and have real interactions, unfettered by iPhones and commercials. "It's easy to begin a better life and build closer relationships as you move, step by step, in a natural place and pace. A regular practice of interaction with wild places really does change your life," says Jenkins. This has held true for the young DJ, her walking companion. He just earned a scholarship to Northland College, the number one ecologic college in Wisconsin, and seventh in the nation. The young Jenkins plans to study ore-veterinary science and become a wildlife veterinarian.
'Every Natural Fact' was released in June of 2010 by Holy Cow! Press.
The Council for Wisconsin Writers (CWW) is a non-profit, tax-exempt, membership organization founded in 1964 and dedicated to promoting local, state, and national awareness of Wisconsin's great literary heritage and to encouraging excellence among today's Wisconsin writers.
Amy Lou Jenkins is a college writing instructor, freelance writer and a registered nurse. Her work has appeared The 'Florida Review', 'Wisconsin Trails', 'Rosebud', 'The Flint Hills Review', 'Wisconsin People and Ideas', 'Metro Parent', 'Big Apple Parent' and more. Her essays have been widely anthologized including the books, 'Wild with Child', 'The Maternal is Political', and more.
What others are saying about 'Every Natural Fact':
"Any reader drawn to the outdoors will cherish 'Every Natural Fact' and its author's sensual intelligence potted in the fertile soil of a boundless curiosity for the world. Amy Lou Jenkins is the Anna Quindlen of the north woods, the Rachel Carson of the good land of Wisconsin, bequeathing to her son and to all of us an indestructible sense of wonder." — Bob Shacochis, National Book Award-winning author of 'Easy in the Islands' and 'The Immaculate Invasion'
"Braiding together history, memoir, gentle parenting guidance, and superb nature writing, Jenkins' prose illuminates the details of ordinary life."—Susan Cheever, author of 'American Bloomsbury'
"Wisconsin's wild areas become the world in extraordinary debut by Amy Lou Jenkins' 'Every Natural Fact' is nothing less than sensational." —Pamela Miller, Minneapolis Star Tribune.
"If you combined the lyricism of Annie Dillard, the vision of Aldo Leopold, and the gentle but tough-minded optimism of Frank McCourt, you might come close to Amy Lou Jenkins, a writer who obliterates the distinction between regional writing and actual, honest-to-god writing. I, for one, would follow her anywhere."—Tom Bissell, author of 'The Father of All Things' and 'Extra Lives'.
'Every Natural Fact' may be found with the essays, nature books, or parenting books at your favorite bookstore and through Holy Cow! Press. It's also available through Amazon and online sellers in paperback, milled from sustainable forests and recycled fibers, and in Ebook format.
###