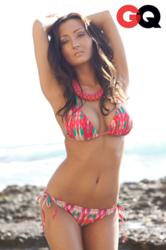 I am blessed and grateful to appear in such a well known worldwide publication like GQ.
Los Angeles, CA and Houston, TX (PRWEB) April 02, 2012
Amy Markham is an international model who has graced the covers and pages of publications and advertisements worldwide. As a small town girl from the Lonestar state of Texas, Amy has worked around the clock to reach global success and recognition. Since her first magazine shoot last year, she has shot covers and features for publications both US based and internationally back to back. From Maxim and GQ to Lowrider, Rukus, and Performance Auto and Sound, she has done it all. Automotive, High end Men's Magazines, Audio, Entertainment, the list continues. In August 2011, Miss Markham was also named "Hollywood's Next Rising Star" in a Los Angeles based Entertainment magazine, The Hollywood Weekly.
Not only is she a highly sought after model, but Ms. Markham has also recently branched into television and can be seen on the reality show "Promo Girls" on the Telemundo Network, and "Anything that rolls" on Channel 39 in Houston, Texas. She can also be seen on news channel segments and interviews around the US covering her appearances at local sporting and automotive events and shows. Additionally, she was also the host of BiteMeTv, show based in Los Angeles that was recently a winner of the LA Web Series Festival 2011.
Amy Markham is well known for being diverse and her exotic looks. She is a blend of Korean and English-Caucasian and was blessed with ethnically ambiguous features that make her stand out among many other models. From Australia to the USA, South Africa to Mexico, Amy's recent global popularity has been on the rise with lightning speed since she was only discovered a little over a year ago. Industry professionals that have worked with Amy are blown away at her undeniable talent, "down to earth" personality, and contagious smile as she is the complete opposite of a diva. Be sure to check out Amy's new website (scheduled for release Summer 2012) for information on her magazine work, commercials and endorsements, celebrity appearances, and television shows.
http://www.facebook.com/modelamymarkham
http://www.facebook.com/OfficialAmyMarkham
Twitter ID @AmyMarkhamTX