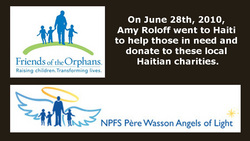 We invite you to help kids defy the odds and give a little help for a BIG WORLD
Portland, OR (PRWEB) July 25, 2010
Founded in 2009, by reality television celebrity and celebrated author Amy Roloff (TLC's "Little People Big World"), the Amy Roloff Charity Foundation serves children, at risk youth, single parents, families and disability groups via fundraising and partnering with other charities.
New opportunities to assist these groups are created through financial assistance, fundraising events, sports activities and education. Recent charitable activities include participation in a Haitian relief effort, organized by the Amy Roloff Charity Foundation, that included participation from many local business, schools, community members, as well as national brands including shipping by Federal Express Ground and 7th Generation Cleaning Products that brought supplies and comfort items to those affected by the recent natural disaster.
A visit to deliver backpacks to NPH Kids participating in the Angels of Light Program through the Friends of the Orphans was conducted June 29th. Amy and board members Gayle Meyer and Lisa Dixon honored the kids participating in the Angels of Light Program and also interacted with children at a day camp where 200 children are fed and attend a school setting each day, designed to help them keep their minds off of the stressful situation and have a chance to be kids.
Amy continues to reach out to kids and families with additional and upcoming fundraising events, including the annual Amy Roloff Charity Foundation Golf and Dinner Benefit. Held on August 22nd & 23rd at The Reserve Vineyards and Golf Course, the 2010 "Starry Night and Summer's Day" event will benefit Portland Shriners Hospitals for Children and Oregon Special Olympics. Notable celebrities participating include Jason Kennedy (E! Entertainment), Dale Schlueter (Portland Trailblazers), Michael Holton (Portland Trailblazers) and Patrick Lamb (Musician).
There are sponsorship opportunities still available, along with limited space for dinner and golf. Please email Gayle Meyer at gayle@amyroloffcf.org or visit our website for more information at http://www.amyroloffcf.org. Unable to attend, but still want to help Amy, help kids, visit our website and donate now! We invite you to help "kids defy the odds" and give "A little help for a big world"
###