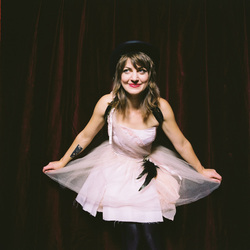 "[Hadestown] is nothing short of incredible" – NME
New York, NY (PRWEB) April 30, 2010
UK critics are giving top marks and praise to Anais Mitchell's ambitious new concept album Hadestown. Set in a post-apocalyptic Depression-era town, Hadestown retells the myth of Orpheus and Eurydice "soundtracked by American roots music, incorporating country, blues and jazz in the manner of Bruce Springsteen's Seeger Sessions project" (The Guardian). The result is a folk-opera where HBO's Deadwood meets The Decemberists' Hazards of Love, that has caught the attention of critics overseas and is quickly gaining recognition in the US.
"5 Stars" – The Guardian
"9 out of 10" [Hadestown] is an album that possesses an easy grace that defies any accusations of pretension" – NME Magazine
"5 Stars" "Sensationally good and endlessly absorbing… A must buy." – The London Times
Anais, along with arranger Michael Chorney and producer Todd Sickafoose, enlisted a who's who of cutting edge indie musicians for the cast. Justin Vernon (Bon Iver) plays Orpheus, Eurydice's lover whose singing can cause branches to bend and rivers to part; Ani DiFranco is Persephone, wife of Hades and a speakeasy songstress; Greg Brown lends his gravelly vocals for the role of Hades, the wealthy ruler of the walled city of Hadestown.
In smaller roles are the Haden Triplets (Petra, Rachel, and Tanya) as the Greek-chorus-like Fates and Ben Knox Miller (The Low Anthem) as the messenger Hermes. Anais herself sings the part of Eurydice, whose metaphoric death propels Orpheus into "Hadestown."
Anais Mitchell is currently on tour in the US performing songs from the album. For a full list of dates, please visit http://www.anaismitchell.com
# # #