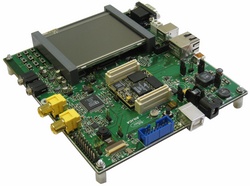 We strongly believe that our success depends on an engaged and integrated Blackfin ecosystem that complements our strengths and technology with specialized hardware, software, service, and manufacturing, resulting in customer solutions that succeed in the market.
NUREMBERG, Germany (PRWEB) February 26, 2008
The FireCracker base board includes interfaces and connectors (where applicable) for the following
-- ADSP-BF537 or ADSP-BF527 based Core Module from Bluetechnix supporting 10/100Mbit Ethernet
-- on-board Xilinx XC3S1000 FPGA and associated SRAM and Flash, USB based JTAG Interface
-- connectBlue wireless LAN module
-- connector for 2Mpixel CMOS camera
-- Sharp 3.5" TFT display, 320px x 240px , including touch screen controller
-- connectors for analog Audio in and out (using ADI AD1936A)
-- connectors for Composite Video in and out (using ADI ADV7183 and ADV7391)
-- Zigbee enabled wireless interface
-- USB to UART bridge
-- CAN driver
-- SD card socket
-- Optional Blackfin Debug Agent
In addition, there are several expansion connectors to extend the capabilities of FireCracker. FireCracker also ships with a number of demonstration and evaluation software modules that allow recording, file transfer and playback of audio and video files. The FireCracker is priced at EUR 499. Additional details on FireCracker are at http://www.silica.com/firecracker.
The FireCracker uses compact and reusable Core Modules from Bluetechnix, which contain the Blackfin processor from Analog Devices, the external SDRAM and Flash memory and the power management function, on a small 31 x 36mm module that connects to the FireCracker base board through two 60 pin connectors. The Core Modules are available from Bluetechnix with a number of different Blackfin processor models and memory configurations.
"The versatility of the FireCracker Development Platform is perfectly matched to the Blackfin processor. With FireCracker, SILICA is enabling its customers to rapidly evaluate and design systems using the embedded architecture that handles the most complex media-rich tasks with ease, and is equally adept at communications and control," said Christian Bangert, SILICA's Technical Marketing Manager for Analog Devices. "We anticipate that FireCracker will be at the middle of many opportunities for SILICA and ADI in the near future."
"We are pleased that our collaboration with SILICA has produced such a valuable and versatile development tool. This is a great example of the market-focused partner tactics that we are pursuing," said Stephen Daly, Channel Marketing Director, General Purpose DSP Group, Analog Devices, Inc. "We strongly believe that our success depends on an engaged and integrated Blackfin ecosystem that complements our strengths and technology with specialized hardware, software, service, and manufacturing, resulting in customer solutions that succeed in the market."
A Convergent Future Demands Blackfin-Class Processing
Analog Devices' Blackfin embodies a new breed of 16/32-bit embedded processor with the industry's highest performance and power efficiency for applications where a convergence of capabilities -- multi-format audio, video, voice and image processing; multi-mode baseband and packet processing; and real-time security and control processing -- are critical. It is this powerful combination of software flexibility and scalability that has gained Blackfin widespread adoption in convergent applications such as digital home entertainment, networked and streaming media, automotive telematics and infotainment, and digital radio and mobile TV.
Because developers today seek to reduce time to market by choosing a robust ecosystem that brings them nearer to the capabilities of their end-products, Analog Devices provides an industry-leading tools, starter kits and support including the familiar ADI CROSSCORE(R) software and hardware tools that support other Blackfin Processors. These include the award-winning VisualDSP++(R) integrated development and debug environment (IDDE), emulators, and EZ-KIT Lite(R) evaluation hardware.
About Analog Devices
Innovation, performance, and excellence are the cultural pillars on which Analog Devices has built one of the longest standing, highest growth companies within the technology sector. Acknowledged industry-wide as the world leader in data conversion and signal conditioning technology, Analog Devices serves over 60,000 customers, representing virtually all types of electronic equipment. Celebrating 40 years as a leading global manufacturer of high-performance integrated circuits used in analog and digital signal processing applications, Analog Devices is headquartered in Norwood, Massachusetts, with design and manufacturing facilities throughout the world. Analog Devices' common stock is listed on the New York Stock Exchange under the ticker "ADI" and is included in the S&P 500 Index.
About SILICA
SILICA, an Avnet Company, is a highly specialized semiconductor distributor with 37 branch offices throughout Europe, providing customers with a broad portfolio of 24 semiconductor suppliers along with in-depth technical and logistic support as well as other value-added services. With local teams of application engineers and technology specialists, SILICA is dedicated to supporting its customers technically and to providing the design-in expertise needed for customers to compete successfully. As a division of Avnet Electronics Marketing (EM) in Europe, SILICA is supported by Avnet Logistics for warehousing, programming and other value-added services. The company's Web site is located at http://www.silica.com.
Blackfin, CROSSCORE, VisualDSP++, and EZ-KIT Lite are registered trademarks of Analog Devices, Inc. All other trademarks included herein are the property of their respective owners.
RSS Feed: http://www.analog.com/processors/news/pressReleases/index.html