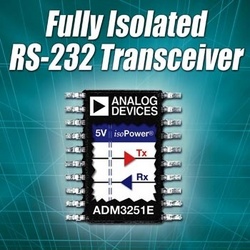 NORWOOD, Mass. (PRWEB) July 21, 2008
The ADM3251E transceiver incorporates ADI's iCoupler® and isoPower™ isolation technologies and is the first surface mount RS-232 transceiver to feature full isolation of both the data lines and power. With a 2.5-kV isolation rating, the new RS-232 transceiver complies with industry-standard isolation regulations, including UL1577 and DIN VDE 0884-10, ensuring it will meet the robustness levels required in noisy operating environments such as isolated RS-232 diagnostic data ports in HVAC building control systems, industrial automation and control applications, point-of-sale equipment, programmable logic controllers, telecom and medical equipment. The SMT package reduces board space by 45 percent compared with traditional ICs and helps to accelerate the manufacturing process and lower system development costs.
iCoupler® Technology
With more than 150 million channels deployed throughout the industry, ADI's proven iCoupler technology is based on chip-scale transformers, rather than on the LEDs and photodiodes found in optocouplers. Transformers can support higher data rates and lower power consumption, and are more stable over life as compared to LEDs and photodiodes. By fabricating the transformers directly on-chip using wafer-level processing, iCoupler channels can be integrated with each other and other semiconductor functions at low cost. For more on ADI's iCoupler digital isolation technology, please visit: http://www.analog.com/icoupler.
isoPower™ DC-to-DC Converter
iCoupler digital isolators condition and drive data across transformers. ADI's isoPower dc-to-dc converter uses the same chipscale transformer technology, but instead of transmitting data, isoPower employs switches, rectifiers, and regulators to generate power that is isolated to the same degree as the data channels. For more on ADI's technique for isolating power, please visit: http://www.analog.com/isopower.
Availability and Pricing
The ADM3251E is available now in production quantities and comes housed in a Pb-free 13 mm × 10.56 mm (138 mm2) 20-lead WSOIC (wide body small outline integrated circuit) surface-mount package. The transceiver is priced at $2.99 per unit in 1,000-unit quantities. For more information, visit http://www.analog.com/pr/ADM3251E. For more information on ADI's interface products, visit http://www.analog.com/interface.
About Analog Devices
Innovation, performance, and excellence are the cultural pillars on which Analog Devices has built one of the longest standing, highest growth companies within the technology sector. Acknowledged industry-wide as the world leader in data conversion and signal conditioning technology, Analog Devices serves over 60,000 customers, representing virtually all types of electronic equipment. Celebrating over 40 years as a leading global manufacturer of high-performance integrated circuits used in analog and digital signal processing applications, Analog Devices is headquartered in Norwood, Massachusetts, with design and manufacturing facilities throughout the world. Analog Devices' common stock is listed on the New York Stock Exchange under the ticker "ADI" and is included in the S&P 500 Index. http://www.analog.com
MULTIMEDIA GALLERY http://www.businesswire.com/cgi-bin/mmg.cgi?eid=5735858