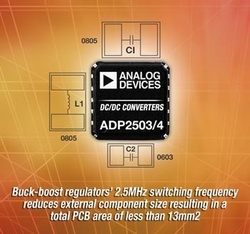 Many lithium-battery-powered devices require voltage rails in the 2.8-V to 3.6-V range for RF, audio, or motor applications. The ADP2503 and ADP2504 are ideal regulators to provide these voltages when board area and efficiency are important
NORWOOD, Mass. (PRWEB) August 29, 2008
"Many lithium-battery-powered devices require voltage rails in the 2.8-V to 3.6-V range for RF, audio, or motor applications. The ADP2503 and ADP2504 are ideal regulators to provide these voltages when board area and efficiency are important," said Arcadio Leon, marketing director for portable power products, Analog Devices.
Proprietary Buck-Boost Architecture Results in Excellent Transient Performance and High Efficiency
The ADP2503 and ADP2504 regulators are based on ADI's new proprietary current-mode buck-boost architecture, achieving glitchless mode transitions and outstanding transient performance across line and load. This high level of output stability is critical for powering sensitive analog and digital circuitry. The devices also feature one of the industry's lowest no-load quiescent current (Iq) levels—38 µA in power-save mode—which extends stand-by time in portable electronics and/or increases the power budget for the inclusion of additional features. The proprietary H-Bridge buck-boost architecture improves the efficiency by more than 10 percent versus legacy cascaded boost-buck architectures by reducing switching losses.
The ADP2503 and ADP2504 operate at input voltages ranging from 2.3 V and 5.5 V, which meets the requirements for single Li-Ion, Li-Ion polymer cell and multiple alkaline/NiMH cell applications. Fixed output voltages range from 2.8 V to 5 V.
Availability and Pricing
The ADP2503 and ADP2504 are available now in sample quantities and come housed in a 10-lead 3-mm × 3-mm thin LFCSP package. The buck-boost regulators are priced at $1.40 per unit in 1,000-unit quantities. For more information, visit http://www.analog.com/pr/ADP2503 and http://www.analog.com/pr/ADP2504. For more information on ADI's power management products, visit http://www.analog.com/en/power-management/switching-regulators- integrated-fet-switches/products/index.html.
About Analog Devices
Innovation, performance, and excellence are the cultural pillars on which Analog Devices has built one of the longest standing, highest growth companies within the technology sector. Acknowledged industry-wide as the world leader in data conversion and signal conditioning technology, Analog Devices serves over 60,000 customers, representing virtually all types of electronic equipment. Celebrating over 40 years as a leading global manufacturer of high-performance integrated circuits used in analog and digital signal processing applications, Analog Devices is headquartered in Norwood, Massachusetts, with design and manufacturing facilities throughout the world. Analog Devices' common stock is listed on the New York Stock Exchange under the ticker "ADI" and is included in the S&P 500 Index. http://www.analog.com
MULTIMEDIA GALLERY http://www.businesswire.com/cgi-bin/mmg.cgi?eid=5766016