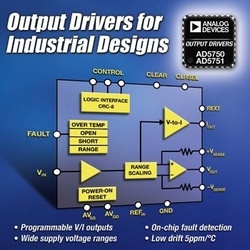 Analog Devices' output drivers provide a complete solution for single- and multi-channel analog I/O systems, meeting the growing demand for feature-rich, highly reliable process control equipment
NORWOOD, Mass. (PRWEB) May 12, 2008
Designed to meet the growing demand for highly configurable industrial automation controllers, the new output drivers offer extensive diagnostic functionality such as fault detection and enhanced sensing capabilities that make system startup and troubleshooting easier. Integrating user-programmable current- and voltage-output capabilities, the AD5750 and AD5751 output drivers are ideally suited for programmable logic controllers, distributed control, and high-voltage analog I/O systems.
"Analog Devices' output drivers provide a complete solution for single- and multi-channel analog I/O systems, meeting the growing demand for feature-rich, highly reliable process control equipment," said Mike Britchfield, product line director, precision signal processing, Analog Devices. "These devices offer industrial designers a high-performance system that provides best-in-class drift and stability specifications, helping to increase plant efficiency and lower maintenance costs. Plus, the advanced diagnostics make troubleshooting quick and easy."
About the AD5750 and AD5751 Output Drivers
The single-channel AD5750 and AD5751 are complete analog output drivers for industrial and process control applications and eliminate the need for additional external components such as shunt resistors, range selection, and fault detection circuitry. The devices handle virtually all standard analog output signaling requirements with selectable hardware or software programmability. The high performance and accuracy of the devices satisfy high-end system requirements of 0.1 percent TUE, 5-ppm/degrees C output drift, and 0.01 percent linearity, eliminating the need for designers to calibrate their systems at multiple temperatures and supplies to satisfy end system accuracy and stability specifications. Analog outputs can drive resistive loads up to 1.5 kohms, capacitive loads up to 1 μF, and inductive loads up to 0.1 henry.
The AD5750, which operates from dual ±12 V to ±24 V supplies, offers four output voltage ranges (0–5 V, 0–10 V, ±5 V, ±10 V) and five output current ranges (4–20 mA, 0–20 mA, 0–24 mA, ±20 mA, ±24 mA), with 20 percent over-range capability.
The AD5751 operates from a single 10.8-V to 60-V supply, facilitating reliable factory communications over long cables. It offers three output voltage ranges (0–5 V, 0–10 V, 0–40 V) and three output current ranges (4–20 mA, 0–20 mA, 0–24 mA), with 20 percent over-range capability.
The AD5750 and AD5751 incorporate a 30-MHz serial peripheral interface (SPI) and power-on reset circuitry and are fully specified over a –40ºC to +105ºC temperature range. Both devices integrate packet-error checking (PEC) features that verify the interface data has been correctly received in the presence of noise, which is useful in industrial environments where data communication corruption can occur.
Availability and Pricing
The AD5750 and AD5751 are sampling now, and full production quantities will be available in November 2008. The devices are housed in 5 mm × 5 mm LFCSPs (lead-frame chip-scale packages), and priced from $2.45 in 1,000-unit quantities. For more information, visit http://www.analog.com/pr/AD5750 or http://www.analog.com/pr/AD5751.
About Analog Devices
Innovation, performance, and excellence are the cultural pillars on which Analog Devices has built one of the longest standing, highest growth companies within the technology sector. Acknowledged industry-wide as the world leader in data conversion and signal conditioning technology, Analog Devices serves over 60,000 customers, representing virtually all types of electronic equipment. Celebrating over 40 years as a leading global manufacturer of high-performance integrated circuits used in analog and digital signal processing applications, Analog Devices is headquartered in Norwood, Massachusetts, with design and manufacturing facilities throughout the world. Analog Devices' common stock is listed on the New York Stock Exchange under the ticker "ADI" and is included in the S&P 500 Index. http://www/analog.com.
iCMOS is a trademark of Analog Devices, Inc All other trademarks included herein are the property of their respective owners.
MULTIMEDIA GALLERY http://www.businesswire.com/cgi-bin/mmg.cgi?eid=5680366