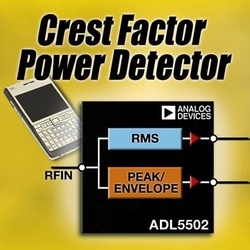 NORWOOD, Mass. (PRWEB) June 16, 2008
Crest-Factor RF Detector Extends Cell Phone Battery Life by 20 Percent
The ADL5502 is the industry's first dual-function RF detector in a single package that combines an RMS detector with an envelope detector to facilitate the crest-factor measurement of complex signals. Accurate power measurement and crest-factor calculation allows the performance of the cell-phone power amplifier to be optimized and reduces signal distortion in mobile phone designs. The new RF detector features a ±0.1 dB accuracy with crest factors up to 11 dBm, which is five times more precise than competing devices. With the higher level of integration, cell phone users can expect up to 20 percent longer battery life. Cell phone manufacturers can reduce cost and development efforts due to the elimination of look-up tables and correction factors that otherwise would be required to accurately control transmitted power levels. The ADL5502 provides ±0.2 dB temperature stability from –40 degrees C to +85 degrees C, further reducing calibration routines while allowing handsets to operate more reliably over temperature.
Log Amp Extends Dynamic Range Over a Full 4-GHz Frequency Range
Designed for any Tx/Rx application requiring measurement or control of an RF/IF power level, the ADL5513—the next generation of ADI's AD8313 log amp—offers 80 dB dynamic range with ±3 dB log conformance, the widest range of any available log amp in its class. The new device holds its dynamic range over its entire 4-GHz frequency range better than any competing log amp. This allows designers of communication systems that operate across a broad frequency spectrum to measure and control a wider power level range with nearly no dynamic range degradation over frequency. Unlike other power detectors, which require extensive temperature calibration or look-up tables to compensate for a greater than 1-dB drift over temperature, the ADL5513 drifts less than ±0.5 dB over temperature, simplifying system calibration routines by enabling designers to use only a room-temperature calibration. The ADL5513 operates to 125 degrees C, the highest operating temperature of any competitive log amp.
Availability and Pricing
The ADL5502 crest-factor RF detector is available now in volume production and comes in a 1.5 mm × 1.5 mm 8-bump WLCSP (wafer-level chip-scale package). The ADL5502 is $5.90 in 1,000-unit quantities and is competitively priced for high-volume handset applications. For more information, contact your ADI sales representative. The ADL5513 log amp is available now in sample quantities and will be available in volume production in September 2008. The ADL5513 comes in a 3mm × 3mm 16-lead LFCSP (lead-frame chip-scale package) and is priced at $5.49 per unit in 1,000-unit quantities. For more information visit http://www.analog.com/pr/ADL5502 or http://www.analog.com/pr/ADL5513.
ADI RF IC Portfolio Covers Entire RF Signal Chain
Using a unique combination of design skills; system understanding; and process technologies, Analog Devices offers the broadest portfolio of radio frequency (RF) ICs covering the entire RF signal chain from industry-leading high-performance RF function blocks to highly integrated single-chip transceiver solutions. The RF function blocks include direct digital synthesizers (DDS); phase-locked loop synthesizers (PLLs); TruPwr™ power detectors and logarithmic amplifiers; X-Amp® variable gain amplifiers (VGAs); RF amplifiers, such as PAs and LNAs; mixers; and direct conversion modulator and demodulator products.
About Analog Devices
Innovation, performance, and excellence are the cultural pillars on which Analog Devices has built one of the longest standing, highest growth companies within the technology sector. Acknowledged industry-wide as the world leader in data conversion and signal conditioning technology, Analog Devices serves over 60,000 customers, representing virtually all types of electronic equipment. Celebrating over 40 years as a leading global manufacturer of high-performance integrated circuits used in analog and digital signal processing applications, Analog Devices is headquartered in Norwood, Massachusetts, with design and manufacturing facilities throughout the world. Analog Devices' common stock is listed on the New York Stock Exchange under the ticker "ADI" and is included in the S&P 500 Index. http://www.analog.com.
TruPwr™ is a trademark and X-AMP® is a registered trademark of Analog Devices, Inc.
MULTIMEDIA GALLERY http://www.businesswire.com/cgi-bin/mmg.cgi?eid=5708531