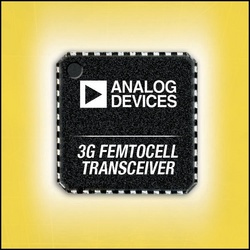 NORWOOD, Mass. (PRWEB) December 1, 2008
The ADF4602-1 3G transceiver is ideally suited to high-performance 3G femtocells providing cellular FMC (fixed mobile converged) services. With a receive sensitivity of better than –113 dBm, the front end includes three high-performance single-ended LNAs (low-noise amplifiers), allowing the device to support tri-band applications. The receiver is based on a direct conversion architecture, which is an ideal solution for highly integrated W-CDMA (wideband code division multiple access) receivers and reduces the BOM (bill of materials) by fully integrating all interstage filtering. The single-ended input structure eases interface design constraints and reduces the matching components required for small footprint single-ended duplexers. The transmitter uses an innovative direct conversion modulator that achieves high modulation accuracy with exceptionally low noise, eliminating the need for external transmit SAW (surface acoustic wave) filters. Operating on a 3.3-V supply, the ADF4602-1 transceiver typically consumes 50 mA in receive mode and 50 mA to 100 mA in transmit mode.
Availability and Pricing
Product   Availability   Temperature Range   Price Each Per 1,000   Packaging ADF4602-1   Sampling now – production release in June 2009   0°C to +85°C   $8.80   40-pin LFCSP For more information, visit http://www.analog.com/pr/ADF4602-1.
About Analog Devices
Innovation, performance, and excellence are the cultural pillars on which Analog Devices has built one of the longest standing, highest growth companies within the technology sector. Acknowledged industry-wide as the world leader in data conversion and signal conditioning technology, Analog Devices serves over 60,000 customers, representing virtually all types of electronic equipment. Celebrating over 40 years as a leading global manufacturer of high-performance integrated circuits used in analog and digital signal processing applications, Analog Devices is headquartered in Norwood, Massachusetts, with design and manufacturing facilities throughout the world. Analog Devices' common stock is listed on the New York Stock Exchange under the ticker "ADI" and is included in the S&P 500 Index. http://www.analog.com
For more information on ADI's most recent product releases, visit our Press Release home page.
MULTIMEDIA GALLERY http://www.businesswire.com/cgi-bin/mmg.cgi?eid=5842405