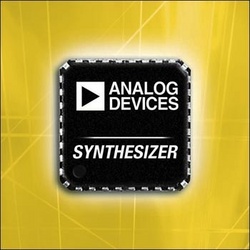 NORWOOD, Mass. (PRWEB) October 27, 2008
The ADF4350 integrated synthesizer provides designers with a single, low phase-noise solution supporting a continuous tuning range from 137.5 MHz to 4.4 GHz. Alternative approaches require as many as 10 individual VCO/PLL combinations. The VCO in ADI's new ultra-broadband, fully integrated synthesizer features phase-noise of –137 dBc/Hz at a 1-MHz offset when operating at 2.1 GHz, and –155 dBc/Hz at a 1-MHz offset when operating at 137.5 MHz. This corresponds to an integrated rms phase error of 0.36 degrees at 2.1 GHz and 0.02 degrees at 137.5 MHz. The ADF4350 provides two RF output ports and enables the user to digitally program the output power level.
Unlike competing synthesizers, the ADF4350 supports both integer-N and fractional-N operating modes, allowing the user to determine the optimal spur and phase-noise performance via software controls for optimal performance and faster time to market.
New Dual Mixer Family Addresses High Dynamic Range Applications
ADI's new mixer family includes the ADL5802 wideband active device, which provides high linearity and modest gain in the industry's smallest package footprint. The family also includes the ADL5356, ADL5358 and ADL5360 band-specific passive mixers, which achieve high linearity and a low-noise figure with integrated IF (intermediate frequency) amplifiers and offer higher gain compared to other active and competing passive devices.
The ADL5802 dual active mixer achieves an IIP3 (third-order input intercept point) of 27 dBm and a single sideband noise figure of 11 dB with a conversion power gain of 1.5 dB within a 4 mm × 4 mm LFCSP (lead-frame chip-scale package). For high linearity applications, the ADL5802 dissipates less than 1 W from a 5-V power supply. The ADL5802 uses high linearity doubly-balanced active mixer cores together with integrated LO (local oscillator) buffer amplifiers to provide high dynamic-range frequency conversion from 300 MHz to 6 GHz. A bias-adjust feature allows the input linearity, single sideband noise figure, and dc current to be optimized using a single control pin.
The ADL5356, ADL5358 and ADL5360 dual passive mixers with integrated IF amplifiers and integrated RF (radio frequency) balun achieve an IIP3 of 26 dBm, a single sideband noise figure of less than 10 dB, and an industry leading 10-dBm blocker noise figure of 16.5 dB. The passive mixers with IF amplifiers provide a conversion power gain of 8.5 dB to 9.5 dB within a small 6 mm x 6 mm LFCSP footprint. The 5-V (nominal) ADL5356, ADL5358, and ADL5360 can also be operated on a 3.3-V supply voltage for power-conscious applications.
The new active and passive mixers are well matched to ADI's ADF4350 synthesizer. In addition, the ADF4350 provides an ideal LO source for Analog Devices' ADL538X demodulators and ADL537x modulators. Together these products provide an ideal RF receive signal path when combined with Analog Devices' AD837X family of high dynamic range variable gain amplifiers and Analog Devices' ADL552X low-noise RF amplifiers.
Availability and Pricing
The ADF4350 is sampling now with full production scheduled for December 2008. The ADF4350 is available in a 5 mm × 5 mm, 32-LFCSP and is priced at $7.86 per unit in 5,000-unit quantities. For more information, visit http://www.analog.com/pr/ADF4530.
The ADL5802, ADL5356, ADL5358 and ADL5360 are sampling now and will be available in volume production in March 2009. The ADL5802 is available in a 24-lead LFCSP and is priced at $6.80 in 5,000-unit quantities. The ADL5356, ADL5358 and ADL5360 mixers are available in 36-lead LFCSP packages and are priced at $9.48 in 5,000-unit quantities. For more information, visit http://www.analog.com/pr/ADL5802, http://www.analog.com/pr/ADL5356, http://www.analog.com/pr/ADL5358 or http://www.analog.com/pr/ADL5360.
ADI's RF IC Portfolio Covers Entire RF Signal Chain
Using a unique combination of design skills, system understanding, and process technologies, Analog Devices offers the broadest portfolio of RF ICs covering the entire RF signal chain from industry-leading high-performance RF function blocks to highly integrated single-chip transceiver solutions. The RF function blocks include DDS (direct digital synthesizers) devices; PLLs; TruPwr™ power detectors and logarithmic amplifiers; X-Amp® VGAs (variable gain amplifiers); PAs (power amplifiers), LNAs and other RF amplifiers; mixers, and direct conversion modulator and demodulator products. For more information, visit http://www.analog.com/RF.
About Analog Devices
Innovation, performance, and excellence are the cultural pillars on which Analog Devices has built one of the longest standing, highest growth companies within the technology sector. Acknowledged industry-wide as the world leader in data conversion and signal conditioning technology, Analog Devices serves over 60,000 customers, representing virtually all types of electronic equipment. Celebrating over 40 years as a leading global manufacturer of high-performance integrated circuits used in analog and digital signal processing applications, Analog Devices is headquartered in Norwood, Massachusetts, with design and manufacturing facilities throughout the world. Analog Devices' common stock is listed on the New York Stock Exchange under the ticker "ADI" and is included in the S&P 500 Index.
TruPwr is a trademark and X-AMP is a registered trademark of Analog Devices, Inc. All other trademarks are the property of their respective owners.
MULTIMEDIA GALLERY http://www.businesswire.com/cgi-bin/mmg.cgi?eid=5813192