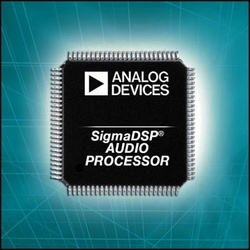 NORWOOD, Mass. (PRWEB) October 20, 2008
The new SigmaDSP audio processors include up to eight stereo asynchronous sample rate converters, an S/PDIF (Sony/Philips Digital Interface) transceiver and serial inputs/outputs that support I2S (inter-IC sound) and TDM (time-division multiplexed) formats. Any of these inputs can be routed to the SigmaDSP core or any of the outputs for maximum system flexibility. The SigmaDSP core of the new audio processor family features full 28-bit processing (56-bit in double precision mode), synchronous parameter loading for ensuring filter stability, and 100 percent code efficiency when used in conjunction with ADI's SigmaStudio™ graphical development environment, which includes audio processing blocks such as FIR and IIR filters, dynamics processors, mixers, low-level DSP functions, and third-party algorithms.
Availability and Pricing
Product   Availability   Temperature Range   Pricing Per 1,000   Packaging ADAU1442   December 2008   –40°C to +105°C   $9.96   100-lead QFP ADAU1445   December 2008   –40°C to +105°C   $9.31   100-lead QFP ADAU1446   November 2008   –40°C to +105°C   $8.28   100-lead QFP For more information on the ADAU144x SigmaDSP audio processors, visit http://www.analog.com/PR/ADAU1442, http://www.analog.com/PR/ADAU1445, http://www.analog.com/PR/ADAU1446
About Analog Devices
Innovation, performance, and excellence are the cultural pillars on which Analog Devices has built one of the longest standing, highest growth companies within the technology sector. Acknowledged industry-wide as the world leader in data conversion and signal conditioning technology, Analog Devices serves over 60,000 customers, representing virtually all types of electronic equipment. Celebrating over 40 years as a leading global manufacturer of high-performance integrated circuits used in analog and digital signal processing applications, Analog Devices is headquartered in Norwood, Massachusetts, with design and manufacturing facilities throughout the world. Analog Devices' common stock is listed on the New York Stock Exchange under the ticker "ADI" and is included in the S&P 500 Index.
SigmaDSP is a registered trademark and SigmaStudio is a trademark of Analog Devices, Inc.
MULTIMEDIA GALLERY http://www.businesswire.com/cgi-bin/mmg.cgi?eid=5806916