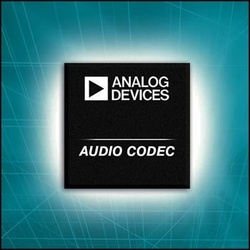 SAN FRANCISCO (PRWEB) October 2, 2008
The ADAU1361 and ADAU1761 audio codecs include stereo audio ADCs (analog-to-digital converters) and DACs (digital-to-analog converters) that support sample rates from 8 kHz to 96 kHz, and a digital volume control. The analog input stage supports a stereo line input, a stereo analog microphone interface and a circuit to supply the microphone bias voltage. It also supports the new standard in high-performance low-noise, digital microphones.
The analog output stage includes two differential and three single-ended outputs, allowing for the direct connection of stereo headphones, an earpiece and other output transducers. AC-coupled or "capless" configurations are supported for the headphone interface. The differential line outputs can interface to a broad portfolio of ADI's Class-D power amplifiers.
The serial control bus supports the I²C or SPI protocols, while the serial audio bus is programmable for I²S, left/right justified, or TDM modes. A programmable PLL supports flexible clock generation for all standard rates and available master clocks from 8 MHz to 27 MHz.
As part of a complete portable audio signal chain, the ADAU1361 and ADAU1761 interface to any analog microphone or PDM digital microphone, including Analog Devices' ADMP401 analog and ADMP421 digital MEMs microphones. The codecs also match well with both stereo and mono Class-D audio amplifiers from Analog Devices, such as the SSM2315, SSM2317, SSM2306 Class-D power amplifiers.
Availability and Pricing
The ADAU1361 and ADAU1761 are sampling now and will be available in production quantities in November. The ADAU1361 and the ADAU1761 are housed in 5-mm × 5-mm, 32-lead QFN (quad flat no-lead) packages and are pin and footprint compatible. The ADAU1361 is priced at $2.88 per unit in 1,000-unit quantities. The ADAU1761 is priced at $3.91 per unit in 1,000-unit quantities. WLCSP (wafer-level chip-scale package) options are available for both components. For more information, visit http://www.analog.com/ADAU1761.
About SigmaStudio
The SigmaStudio graphical programming tool allows the user to create a signal flow using familiar audio processing blocks, such as biquad filters, delays, and dynamics processors. The resulting design can be linked directly to the SigmaDSP hardware, and the SigmaStudio tool can be used as a real-time control surface for the design's parameters, allowing easy system tuning. Third-party algorithms, such as Dolby® ProLogic® II, Audistry™ and SRS® TruSurround XT™ are available for the SigmaDSP and integrate seamlessly into the SigmaStudio environment. For more information, visit http://www.analog.com/SigmaDSP.
About Analog Devices
Innovation, performance, and excellence are the cultural pillars on which Analog Devices has built one of the longest standing, highest growth companies within the technology sector. Acknowledged industry-wide as the world leader in data conversion and signal conditioning technology, Analog Devices serves over 60,000 customers, representing virtually all types of electronic equipment. Celebrating over 40 years as a leading global manufacturer of high-performance integrated circuits used in analog and digital signal processing applications, Analog Devices is headquartered in Norwood, Massachusetts, with design and manufacturing facilities throughout the world. Analog Devices' common stock is listed on the New York Stock Exchange under the ticker "ADI" and is included in the S&P 500 Index.
SigmaDSP is a registered trademark and SigmaStudio is a trademark of Analog Devices, Inc. All other trademarks contained herein are the property of their respective owners.
MULTIMEDIA GALLERY http://www.businesswire.com/cgi-bin/mmg.cgi?eid=5794585