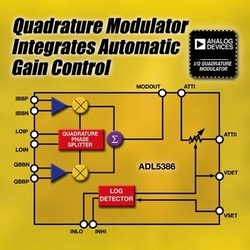 NORWOOD, Mass. (PRWEB) October 28, 2008
Operating over a 50-MHz to 2200-MHz frequency range, the ADL5386 supports high-data-rate complex modulation for next-generation communication infrastructure equipment. Functionally complete, the ADL5386 integrates a 25-dB dynamic range output power detector and a VVA (voltage variable attenuator). Together, they form a closed-loop automatic level control (ALC) or AGC, enabling the ADL5386 to accurately set the output power to a user determined level. The ADL5386 provides a complete subsystem within a small footprint, saving considerable board space, component cost, and circuit complexity over discrete implementations.
ADL5386 Eases Broadband High-Data-Rate Next-Generation Radio Applications
The ADL5386 provides exceptional output dynamic range due to its high output power capability (+10 dBm P1dB), high single-ended output linearity (+24 dBm IP3), and low noise floor (–160 dBm/Hz). The –38 dBm carrier feedthrough and –46 dBc sideband suppression at 350 MHz minimizes the need for calibration and nulling in complex high-order modulation applications such as 64 QAM (quadrature amplitude modulation) and greater.
The ADL5386 wideband inputs (dc to 700 MHz) are compatible with the output levels of ADI's AD977x family of TxDAC+® (transmit digital-to-analog converter) devices. The –7 dBm local oscillator (LO) drive requirement is compatible with ADI's ADF4360 series of integrated PLL (phase locked loop) synthesizers. The 2 × LO input frequency of the ADL5386 helps to minimize LO pulling in applications where LO isolation and board density are critical.
Availability and Pricing
The ADL5386 is in full-production and is available in a 40-pin LFCSP. The ADL5386 is priced at $5.29 per unit in 1,000-unit quantities. For more information, visit http://www.analog.com/pr/ADL5386.
ADI's RF IC Portfolio Covers Entire RF Signal Chain
Using a unique combination of design skills, system understanding, and process technologies, Analog Devices offers the broadest portfolio of RF ICs covering the entire RF signal chain from industry-leading high-performance RF function blocks to highly integrated single-chip transceiver solutions. The RF function blocks include DDS (direct digital synthesizers) devices; PLLs; TruPwr™ power detectors and logarithmic amplifiers; X-Amp® VGAs (variable gain amplifiers); PAs (power amplifiers), LNAs (low-noise amplifiers) and other RF amplifiers; mixers, and direct conversion modulator and demodulator products. For more information, visit http://www.analog.com/RF.
About Analog Devices
Innovation, performance, and excellence are the cultural pillars on which Analog Devices has built one of the longest standing, highest growth companies within the technology sector. Acknowledged industry-wide as the world leader in data conversion and signal conditioning technology, Analog Devices serves over 60,000 customers, representing virtually all types of electronic equipment. Celebrating over 40 years as a leading global manufacturer of high-performance integrated circuits used in analog and digital signal processing applications, Analog Devices is headquartered in Norwood, Massachusetts, with design and manufacturing facilities throughout the world. Analog Devices' common stock is listed on the New York Stock Exchange under the ticker "ADI" and is included in the S&P 500 Index.
TxDAC+ and X-Amp are registered trademarks and TruPwr is a trademark of Analog Devices. All other trademarks are the property of their respective owners.
MULTIMEDIA GALLERY http://www.businesswire.com/cgi-bin/mmg.cgi?eid=5814299