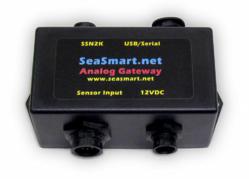 The SeaSmart Analog Gateway will simplify adding vessel and engine data to any Marine network...
Brookings, Oregon (PRWEB) May 23, 2012
Chetco Digital Instruments introduces its latest addition to the popular SeaSmart.net line of marine adapters with the SeaSmart Analog Gateway. This innovative compact unit connects up to 8 analog senders to marine networks including NMEA 2000, Ethernet, or Wi-Fi (802.11 b/g). Designed to add digital display support for single or dual engine configurations, the SeaSmart Analog Gateway converts sensor data directly into compatible network protocol for display on modern Chart plotters from Garmin, Ray Marine, or Lowrance, PC/iPad devices, or any internet Web browser device.
The versatile Analog interface design allows the unit to be user configurable and supports any analog sender by using embedded calibration tables. Unique to SeaSmart.net is a proprietary field installable sensor module which contains selected calibrations preprogrammed in non-volatile memory. The installer can select from a growing list of preconfigured vessel engine packages and simply plug in the desired module to complete unit setup without connecting to a PC. As a result, the SeaSmart Analog Gateway will provide basic instrumentation for dual engines (Tachometer, Engine Temp, Oil Pressure, and Alternator Voltage) or more extensive Single Engine package (Fuel level, Transmission Pressure, Battery Bank status, and more). Sensor inputs come from any resistive sender, voltage sender or can operate in parallel with most existing analog gauges – thus allowing a simple upgrade path for older analog engines to modern marine networks.
Based on the SeaSmart.net line of marine adapters, the SeaSmart Analog Gateway can be purchased with options to support popular network interfaces including NMEA 0183, NMEA 2000, Ethernet, or Wi-Fi. The NMEA 0183 interface provides both serial RS232 and USB outputs to compatible equipment or PC platforms. A NMEA 2000 option allows direct display on enabled Marine Chart plotters from Garmin, Ray Marine, or Lowrance and automatically populates preconfigured gauges with data from older analog engine packages. Ethernet and Wi-Fi options provide an interface to on-board PC or iPad devices running a growing list of SeaSmart.net compatible applications including the popular iNavX and vDash. The Ethernet/WiFi options also provide remote access to vessel data over the internet using a built-in Web Server, providing a single device low-cost solution for remote monitoring anywhere in the world.
The SeaSmart Analog Gateway complements the growing line of marine solutions offered by Chetco Digital Instruments. "We developed the SeaSmart Analog Gateway based on years of experience in the marine instrumentation market," says Joe Burke CTO. "Our SeaGauge products lead the way and now SeaSmart.net offers the next generation of solutions," he added when referring to the unique field installable calibration module. Gone are the days of hooking up a laptop in the engine room to complete installation. Now, installers can simply order the appropriate preconfigured sensor module, splice in the quick-connect sensor harness and attach to the desired network.
The SeaSmart Analog Gateway adapter is available with NMEA 0183, NMEA 2000, Ethernet, or Wireless (802.11 b/g) network interfaces. With a minimal footprint of 4" X 2" X 2" and a power draw of less than 900mA, the water-resistant SeaSmart Analog Gateway adapter is perfect for Sail boats or other small craft that demand compact low-impact equipment. A SeaSmart Analog Gateway and an iPad running iNavX is all that is needed to access and monitor vessel data.
SeaSmart.net products are available directly on-line at http://www.seasmart.net and http://www.digitalmarinegauges.com . Pricing starts at $495 for basic NMEA 0183 and $595 for NMEA 2000 or Ethernet options. An optional data logging adapter is $75. Volume and kit pricing is available.
For more information on SeaSmart.Net™, SeaGauge™, and other Chetco Digital Instruments products, and where to buy, see our web site at http://www.digitalmarinegauges.com, email sales(at)chetcodigital(dot)com or call 541 469 4783. For information on iNavX visit http://www.inavx.com.