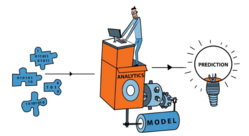 Enrol for Jigsaw Academy's analytics training course before 23rd November and save Rs. 3000. Foreign nationals will get a discount of $150 on international fees.
(PRWEB) November 21, 2012
Big data has been the talk of the town for all of 2012. Many large businesses have taken noteworthy steps in embracing big data analytics this year. Technology firms like Facebook, Twitter, Youtube and LinkedIn are at the heart of the big data movement.
But big data is also finding uses in unconventional areas such as the US elections. Barack Obama had a team of back room number crunchers supporting his campaign efforts. These data-geeks guided Obama's efforts by predicting things such as which celebrity will appeal the most to a particular voter segment or who are the people most likely to loosen their purses to support the president's campaign.
It is no wonder that CNN recently touted data scientist as the best new job in America. With a median salary of $98600 and a healthy rate of increment, the role is bound to appeal to many.
While the smartest have already started making the move into this exciting and high-growth field, there is still a huge shortfall in analytic talent. Gartner recently predicted that there will be 4.4 million jobs generated in big data analytics by 2015, but only one-third of those jobs will be filled due to a shortage of talent.
Given these facts, big data analytics (or data science) is surely one of the most exciting fields to emerge in the business in recent times.
So how exactly does one become a data scientist?
As with any new field, there is a mix of excitement and confusion amongst the participants – Companies are asking 'How do I select a good data scientist?' and professionals are asking 'How do I become a good data scientist?'.
There is a mix of skills that is needed to become a good data scientist.
A good data scientist needs some programming skills at the initial stages for accessing or acquiring the data and putting it in the required format for subsequent analysis.
A good data scientist needs mathematical and statistical skills to discover patterns and generate insights from the data.
A good data scientist needs visualization skills to explain and represent your discoveries.
Hence, a good data scientist needs to master all of these skills in order to be most effective.
While many people mistakenly believe that a tool based certification such as the Base SAS certification is an easy entry into this field - that is not really the case.
Knowledge of analytic tools is important for any data scientist. However, it is not the only skill required.
A good analytics course will focus on a combination of fields. It will include knowledge of statistical concepts that underlie most analytic techniques. It will cover some of the popular predictive modelling techniques such as regression and clustering. It will cover analytic tools as well.
Additionally, a good big data analytics course will expose students to real life business problems and focus on application of analytics using real business data to solve these problems.
This is why Jigsaw Academy's Foundation course has created a strong niche in the market. This course has been designed by industry professionals and covers all the skills necessary to become a business analyst or a data scientist.
The case study based approach of the curriculum ensures students get exposed to a variety of business problems, data sets and predictive modelling techniques.
Jigsaw Academy is currently offering a special holiday season discount on its courses. Enroll for Jigsaw Academy's analytics training course before 23rd November and save Rs. 3000. Foreign nationals will get a discount of $150 on international fees.
Contact info(at)jigsawacademy(dot)com for enrollment.
Visit the website http://www.jigsawacademy.com for more details about the courses.