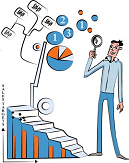 An excellent course that helps to understand analytics through practice with anywhere any time accessible lectures, hands on analytical tools, interesting diverse case studies and above all very experienced and helpful faculty.
Kumar, Data analyst
Bangalore, India (PRWEB) October 16, 2012
Jigsaw Academy, a leading analytics training company, announced that over 5000 professionals have successfully completed Jigsaw Academy's online SAS and analytics training courses.
"Our Foundation course, which is a beginner's course in analytics, has been taken by students from India, Australia, Brazil, South Africa, UK, Portugal and Pakistan. The analytics training reviews have been very, very positive and this gives us the confidence that we are on the right track" says Sarita Digumarti, one of the co-founders of Jigsaw Academy.
"We are constantly improving the course curriculum – incorporating the latest tools and techniques, inviting inputs from analytics experts from around the globe and including newer and better case studies", says Sarita.
While its flagship course, the Foundation course in analytics, has become phenomenally popular in a short span of time, Jigsaw Academy has also launched 3 new advanced courses in analytics.
'Analytics with R' is a course designed for analytics professionals who want to pick up this in-demand skill. The course has been designed by R experts – people who have used R to solve a variety of business problems in domains like retail, financial services, telecom and healthcare.
"Strong course content is one of our core strengths. We have involved analytics experts from around the globe to create the perfect mix of theory and practise in our courses. The 'Analytics with R' course has been co-developed by Jean-Loup, an aeronautical engineer currently pursuing a PhD from MIT, Portugal."
The 'Retail Analytics' and 'Financial analytics' courses are domain specific courses. These courses provide an understanding of the respective domains as well as application of analytics within these domains.
"We have taken great care to ensure we have the right people developing and delivering these courses. Our faculty is a great mix of analytics industry experts from domains such as CPG, pharma, Retail, Finance and telecom" says Sarita.
"Our courses have been a great hit in both the student and professional community. Along with our online offerings, we have delivered training programs for some of the premier MBA institutes in India. We also conduct regular trainings for many of the large analytics companies in India" says Gaurav Vohra, who along with Sarita has co-founded Jigsaw Academy.
Jigsaw Academy's courses are specially designed for online learning. Students have the option of taking the live, online classes which are conducted on weekends or the video-based self-paced analytics courses.
There are new batches starting every month. The Foundation course batches start from October 20th and November 17th. This Beginner's course in analytics is deisgned for anyone looking to enter into the field of analytics.
You can learn more about Jigsaw's SAS and analytics training courses here.
About the Company
Jigsaw Academy offers online training in business analytics. Our courses have been created by industry experts who have applied analytics to solve business problems in various domains. You will learn industry best practices, useful tips and tricks from analytics professionals from fields like retail, financial services, FMCG, telecom and healthcare.
You can reach us at [email protected]