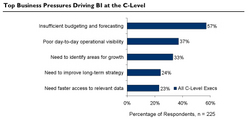 ...top performers were able to drive an average 22% increase in organic revenue, while Laggard companies struggled with an average 9% decline in revenue", Michael Lock, Research Analyst, Aberdeen Group
Los Angeles, CA (PRWEB) December 14, 2009
Somewhere between 1564 and 1642, Galileo made the following statement: "Measure what is measurable, and make measurable what is not so."
That's good advice according to a recently released Aberdeen Research Report.
Their recent report titled "BI for the C-Suite" calls out that 81% of executives at Best-in-Class companies, on average, have self-service, not IT-assisted access to Business Intelligence and Analytics tools, which is more than twice the percentage of all other companies.
Fortunately, we've learned something in 400+ years. Analytix On Demand created its SaaS business intelligence solutions to help companies align themselves with the ancient scientist's advice and create Key Performance Indicators by which to measure the improvement of their firms.
"More than ever before, C-level executives are leaning on analytical technology to provide visibility and insight into how their business is performing, and how it can be improved. Our research shows that Best-in-Class companies are leveraging an efficient combination of people, process, and technology to drive measurable business improvements. Specifically, these top performers were able to drive an average 22% increase in organic (non-acquisition related) revenue, while Laggard companies struggled with an average 9% decline in revenue", Michael Lock, Research Analyst, Aberdeen Group. (you can read the Aberdeen here)
"After over a decade in helping large companies create business intelligence solutions, the Aberdeen report reflects what we already knew about how performance is drastically improved when a company is committed to measurement", Vik Torpunuri, Founder of Analytix On Demand.
Torpunuri went on to state "The key is making the business intelligence solution affordable, easy to use and simple to implement...we've achieved all three with our various SaaS BI solutions"
Analytix On Demand allows the C-Suite to focus on addressing the challenges and pressures of managing their firms through a rocky economy. The chart below from the Aberdeen report highlights specific reasons that various C-level executives are adopting Business Intelligence tools such as Analytix On Demand.
The Analytix on Demand Solutions can help C-level executives with all of those business challenges and can be implemented in less than 30 days. An entire business operation can be measurable with minimal, if any, involvement of IT staff.
About Analytix On Demand
Business Decisions. Optimized.
Analytix On Demand™ (http://www.AnalytixOnDemand.com) connects the dots across an entire organization to give companies the central truth about business performance. Its service offers fast and affordable business intelligence (SaaS), helping companies of any size – from SMBs to enterprises – see what's really going on throughout an organization and how each business area affects everything else. This insight helps clients act with confidence, save time, reduce costs and boost profits. Clients start seeing a return on investment in just 30 days or less. Analytix On Demand is based in Irvine, Calif., and has offices in New York, Houston and San Jose. You can read more about practical application of analytics and business intelligence by viewing our analytics blog at http://www.analytixondemand.com/analytics-blog.
# # #