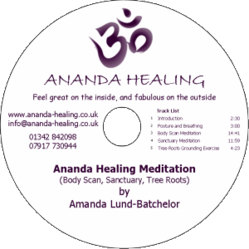 The fusion of Amanda and Duncan, working in harmony, has created a simple, easy way to relax
(PRWEB UK) 18 September 2012
If you're feeling stressed, overwhelmed or under pressure, Ananda Healing Holistic Therapies have created an all new series of guided meditations to help. By fusing the ancient, traditional, meditation techniques and the best technologies of brain relaxation, their new meditations allow you to relax deeply and easily with little effort on your part.
Meditation has long been acknowledged as an effective and safe way to relax, reduce stress & pressure levels and improving general health & well-being, but what is meditation? Some may consider meditation to just be a form of worship or prayer, but the definition of meditation is simply 'Awareness'. Whatever you do with awareness is meditation. "Watching your breath" is meditation; listening to the birds, or feeling the sun on your face can be meditation, as long as it's done with awareness. As long as these activities are free from any other distraction to the mind, it is effective meditation.
These guided meditations differ from just sitting and being aware of your surroundings though, they take you on a journey in your mind to places where you will be deeply and wonderfully relaxed, allowing the benefits of meditation whilst being gently guided through the process. Amanda Lund-Batchelor, from Ananda Healing, has spent over 20 years meditating and as an expert meditation teacher gently guides you with her beautifully relaxing voice. To compliment Amanda's wonderful approach, Duncan Batchelor, master hypnotherapist at Ananda Healing and technical genius, has added the modern science to the tracks. The addition of brainwave entrainment, subliminal messaging, bi-lateral sounds, and background music is all targeted to ease your mind gently from the active beta brain rhythms to the deeply relaxed alpha rhythms. The fusion of Amanda and Duncan, working in harmony, has created a simple, easy way to relax!
Now for the science - Meditation brings the brain wave patterns into an ALPHA state. This is the level of deep relaxation & causes physical changes in the body. It decreases metabolic rate, lowers heart rate (reducing its work load), it lowers levels of cortisol (the stress hormone which in excess is toxic), it decreases blood pressure, lowers cholesterol levels and improves airflow to the lungs. If that is not enough, it increase the level of oxytocin (the feel good hormone) which calms, lessens cravings and addictions, increases positivity, repairs, heals and restores.
Samples of the tracks can be found at the Ananda Healing website, and they can be purchased as either immediately accessible MP3 downloads or combined onto a CD which can be posted to you.