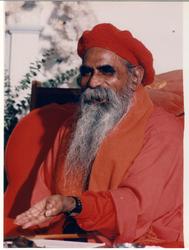 Ashram is the place of meditation, the center to open our real heart
New York, NY (PRWEB) April 23, 2009
Friends of Ananda Ashram and the Board of Trustees of the Yoga Society of New York will host the Ashram's Premiere Spring Gala and Silent Auction fundraiser at Jivamukti Yoga School's Downtown Manhattan location on Thursday, May 7, 2009. The Gala will be one of the larger fundraising initiatives for Ananda Ashram and the monies raised will help support the enhancement of Ashram buildings, which house the retreat center's diverse educational, cultural and devotional Yoga programs. Tickets are $108 per person and can be purchased by clicking here: http://www.anandaashram.org/gala.
"Ashram is the place of meditation, the center to open our real heart," said Guru and Founder of Ananda Ashram, Shri Brahmananda Sarasvati also known as "Guruji". It was established in 1964 in Monroe, New York, one hour outside of New York City and continues to welcome individuals of all faiths, origins and cultural backgrounds. The facilities include guest and resident accommodations, a vegetarian kitchen, classrooms, meditation rooms, "Cosmic Temple," a program hall, natural healing center, seasonal swimming pool and publication center.
In 2009, Ananda Ashram celebrates its 45th Anniversary and its founding organization, The Yoga Society of New York, held its 50th Anniversary in 2008 thanks largely to the support of the New York Yoga community, guests, teachers and students alike. "The purpose of the Spring fund-raising event is to help maintain the physical body of Ananda Ashram, so that we can support Guruji's vision of world peace and understanding through meditation and education for many years to come," said Howell Bosbyshell, President of the Board of Trustees of the Yoga Society of New York.
Sharon Gannon and David Life, co-directors of Jivamukti Yoga School, are serving as honorary co-chairs for the evening, which begins at 8:00 pm with music, vegan hors d'oeuvres and silent auction and moves into devotional kirtan offerings from popular kirtan artists Krishna Das and Shyamdas at 8:30 pm. "Ananda is our spiritual home," said Sharon Gannon and David Life. "It has historic importance because it is the place where our Guruji lived and tirelessly worked, providing a legacy which lives on through his many students, but most importantly lives on through the actual beautiful holy Ashram he created," they continued.
Sponsors and silent donors so far include prAna, Gaiam Magazine New York, Urban Yogis, Mudita Yoga Center, Daniel McBride (Dalien 13 Hands), Dr. Robert A. Kornfeld, Amy Elias Kornfeld, Sherrin Bernstein's Touch Fitness, Natural Fitness, Sarah Tomlinson, David Hollander, Yoga Journal, Whole Foods, Dholetc, Clarins, Teeccino, Beckons Organic, and Kailash Design. Gift bag and monetary sponsors are welcome to donate to the event, please contact Purnima Dillsaver at 845-783-3789 for more information.
About Ananda Ashram (http://www.anandaashram.org):
Ananda Ashram in Monroe, New York, is a spiritual retreat and educational center founded on the universal principles of Yoga and Vedanta and dedicated to East-West cultural exchange. It was established in 1964 as the country center of the Yoga Society of New York, Inc., by Shri Brahmananda Sarasvati, then known as Ramamurti S. Mishra, M.D. Located in the foothills of the Catskill Mountains, just over one hour northwest of New York City, the Ashram is easily accessible by car, bus or train, open year-round and welcomes individual of all faiths, origins and cultural backgrounds.
###