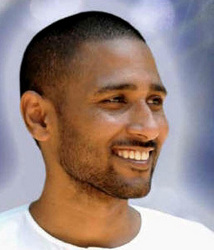 "Once in a rare while, there comes along someone whose light burns so brightly from within, that it illuminates a pathway for the rest of us to follow...
Los Angeles, CA (PRWEB) February 7, 2010
One World Academy will launch their first event in Santa Barbara, California, with the appropriately named, "A New Beginning..." workshop, from Feb. 18-21, 2010. This workshop will be taught by senior faculty member Ananda Giri, with the goal of helping people make three shifts in their lives -- a shift in their perceptions, a shift in their emotions, and a shift in their consciousness.
At the age of 13 Ananda Giri began going to a small school in southern India, studying along side his best friends, Samadarshini and Krishnaji. Now, after working side by side for over twenty years, these three classmates are launching a global educational organization called One World Academy, founded on the principles of service, contribution, and personal growth.
Why Santa Barbara? Or why even in California? One World Academy is headquartered in India. And yet the selection of Santa Barbara as the place to launch their first event is by design. Ananda Giri already has a solid following in California -- last year he did an event in Los Angeles that drew 500 people for the weekend.
So they wanted to stay close to the base of supporters in Los Angeles, and yet allow people to experience this new process in a more serene environment better suited for self-reflection and free of distractions. So Santa Barbara seemed like the perfect choice. That, and the entire "freshman class" of "A New Beginning..." will have a chance to anchor the memory of their experience with an optional skydiving trip Sunday morning, Feb. 21 in Lompoc.
To many, the skydive will be a symbolic experience of letting go of their past beliefs, conditioned behaviors, and old perceptions that have limited their experience of life. According to Ananda Giri, a new beginning must begin with a new higher perspective -- what better place to get a higher perspective than at 18,000 feet above Santa Barbara.
This 2-day workshop itseslf is the culmination of a lifetime devoted to personal and spiritual growth. For over 20 years the founders of One World Academy have not only devoted their lives to their own growth and understanding of both traditional psychology and eastern spiritual philosophies, they have traveled the world, teaching people of all ages, backgrounds, and all walks of life. And just to add even more value to the participants, they have brought in world renowned family therapist Cloe Madanes to be a special guest speaker at the event.
The faculty of One World Academy believes that the world is a mirror of the individuals that make it, and that people cannot separate themselves from the world they live in. According to the principles of the founders, "We are the world we attempt to change. We live in a world that's one. We are the one world."
For event organizer and emcee, Doug Allen, this is a mission of the heart. Allen met Ananda Giri in Fiji at a workshop with Sage and Tony Robbins, and the two became friends, realizing they shared a common mission.
"There are very few processes that can almost instantly transform the quality of how person experiences life, " says Allen, "and 'A New Beginning...' is one of them. And with Ananda Giri teaching it, the sky's the limit in terms of how people's lives will be transformed."
Then again, maybe not even the sky's the limit for the people who attend "A New Beginning..."
For more information visit::
http://www.NewBeginningWorkshop.com
Media Contact:
Doug Allen, Destiny Partnership
doug(at)newbeginningworkshop(dot)com
Phone: 877-358-3443
# # #