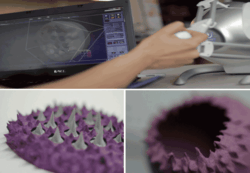 A multi-dimensional drawing process such as this is an extension of the practicality of the everyday sheet of paper, and it leads towards interesting new possibilities for a visual artist." Claude Heath-artist
United Kingdom (PRWEB) April 13, 2012
Using is believing!
Fascinated by the increasing availability of digital technology and the impact that 3D printing could contribute to her creative process, Edinburgh based jeweller Ann Marie Shillito was inspired to create Cloud9, a 3D modeling platform specifically for studio artists and designers..
The digital modeling experience of Cloud9 includes 3D touch feedback and reflects the way that a maker customarily undertakes the fluid, organic exploration of their conceptual ideas. Cloud9 is a virtual 3D digital sketchbook. It taps into the tacit knowledge and skills a craftsperson has accumulated through manipulating physical materials to provide a more familiar approach to modeling virtual 3D forms.
Cloud9's engaging immediacy makes it possible for a craftsperson or new user to begin 3D modeling immediately and is a testament to the developers.
Referring to Cloud9, Jerwood Makers Open 2011 Awardee, Farah Bandookwala said:
"It lets me think in a way that I was used to thinking with materials, in a physical sense. Haptics allow you to bring all of that knowledge with you".
Like many other enterprises, Anarkik3D has been hit hard by the current economic climate and been unable to raise the equity investment the Company needs to optimise and develop the platform.
Undeterred by this CEO, Ann Marie Shillito has embraced the recent phenomena of crowdfunding to raise essential finance to complete the next phase of Cloud9's development.
IndieGoGo, the US crowdfunding platform has been selected for the campaign with the combined goals of raising funds whilst building an international network and community of users to directly inform ongoing software development.
As an alternate to equity investment, crowdfunding is a mutually beneficial way of supporting projects with a sliding level of perks or deals offered in return for campaign donations at various levels.
Amongst these perks, including 3D printed collectibles, Anarkik3D's IndieGoGo contributors have the opportunity to receive this groundbreaking software, the haptic hardware and to benefit from their donations in receiving programming updates as they are released during development. Funding received will be for software optimization.
Follow the campaign launch from April 12th, chart our progress and benefit from the amazing deals available over its 9 weeks duration. Support and share in this crowdfunding venture by visiting our campaign site at http://www.indiegogo.com/anarkik3d and participate in making Anarkik3D Design the indispensable digital tool in the designer's toolbox for modeling and for 3D printing.
Ends.
Issued by Isabelle Moore on behalf of Anarkik3D Design.
For further information contact:
Ann Marie Shillito, CEO,
Telephone +44 (0)131 667 2682 Email: a.m.shillito(at)anarkik3d(dot)co(dot)uk
Isabelle Moore,
Telephone +44 (0)131 667 2682 Email: i.moore(at)anarkik3d(dot)co(dot)uk