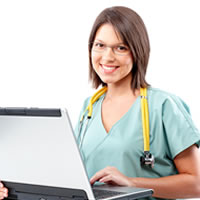 Attendees of the webinar will understand how anatomy and physiology skills for coding, billing, and CDI staff can impact efficiencies today, as well as preparation for ICD-10-CM/PCS.
Vancouver, Wash. (PRWEB) August 14, 2012
Healthcare experts agree one of the most critical skills for coders, billers and all staff that review clinical documentation is a strong understanding of anatomy and physiology. As part of its monthly webinar series, on Tuesday, August 21 BridgeFront hosts HCPro in a free webinar for healthcare titled "Revenue Enhancement through Specificity: The Impact of Anatomy and Physiology."
Attendees of the webinar will understand how anatomy and physiology skills for coding, billing, and CDI staff can impact efficiency today, as well as preparation for ICD-10-CM/PCS. The webinar will also cover best practices for educating staff members, and keeping them refreshed on this important aspect of coding and documentation improvement.
Many organization's ICD-10 plans include anatomy and physiology training for coding and billing staff, and clinical documentation and improvement (CDI) staff; however, there are several benefits to ensuring staff have a strong understanding now, while using ICD-9-CM.
A consistent strong knowledge of anatomy and physiology, across staff members, can:

Improve query opportunities and quality metrics (e.g. mortality index)
Increase reimbursement
Increase credibility with the medical staff
You will learn this from the webinar:

The impact of anatomy and physiology on ICD-9-CM and ICD-10-CM/PCS code assignment
How inconsistent knowledge of anatomy and physiology impacts query development
Why anatomy and physiology skills can improve the accuracy of provider documentation and possibly increase reimbursement
Best practices for providing anatomy and physiology training to both new and current staff members
When:

The webinar occurs on Tuesday, August 21, 2012
The time for each webinar is 9:00 am PDT / 12:00 pm EDT
BridgeFront webinars occur every month
Registration and more information:

Additional education resource:
BridgeFront also offers online education on anatomy and physiology authored by HCPro, Inc. The 16-course curriculum covers all major body systems, guiding your staff to better coding and documentation improvement.
The program includes 57 CEUs from AHIMA and 28.5 CEUs from AAPC. The courses are for medical billing, inpatient coders, outpatient coders, professional services coders, and CDI. The online courses blend audio, graphics and illustrations, interactive exercises, self-checks and engaging material into one easy to consume educational experience.
About the webinar speaker:
Cheryl Ericson, MS, RN is the CD Education Director for HCPro, Inc., in Danvers, MA. Previously she served as Manager of Clinical Documentation Integrity (CDI) for the Medical University of South Carolina (MUSC) in Charleston, SC. Ericson also assumed the role of manager of Utilization Review (UR) at MUSC. She was the recipient of a Pillar Award as the "Finance Leader of the Quarter" during her first year at MUSC for her work in reorganizing the CDI department. She has an extensive background in adult education, data analysis, healthcare revenue cycle, and CMS guidelines.
Ericson was a member of the 2010 American Health Information Management Association (AHIMA) CDI work group. She contributed to the development of the CDI tool kit and co-authored the AHIMA 2010 CDI practice brief. Prior to joining the advisory board, Ericson served on the ACDIS 2010 CDI workgroup. She teaches the ACDIS sponsored CDI Boot Camp and ICD-10 for CDI Boot Camp.
About HCPro:
With more than 20 years of experience, HCPro, Inc. (http://www.hcpro.com), is a leading provider of integrated information, education, training, and consulting products and services in the vital areas of healthcare regulation and compliance. The company's mission is to meet the specialized informational, advisory, and educational needs of the healthcare industry. To accomplish this mission, HCPro provides this specialized information in a variety of products, including magazines, newsletters, books, videos, audio conferences, training handbooks, e-mail newsletters, and online courses. As an acknowledged industry authority in healthcare regulation and compliance, HCPro focuses on providing its clients assistance and expertise in the areas of long-term care, accreditation, medical staff affairs, credentialing, privileging, medical record management, regulatory compliance, nursing, quality/patient safety, infection control, and workplace safety.
About BridgeFront:
Rated as a top-tier provider, BridgeFront delivers online education to healthcare, government, business and education - large and small. A reliable hosted learning management system allows organizations to take skill-building courses as-is, to modify courses or design their own. Helping organizations build competencies in compliance, the revenue cycle, nursing and customer service - BridgeFront stands a leader in client support.
###