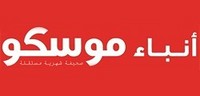 The advent of this publication will not only serve as a portal through which the Arabic-speaking community in London can observe Russian affairs, but as a long-awaited bridge of communication between the Middle East and Russia
(PRWeb UK) September 30, 2010
London, United Kingdom—September 30, 2010 -- The launch of Russia's Arabic-language newspaper Anbaa Moscu was marked by high-level diplomats from Russia and the Middle East as well as representatives of local Arab and Russian communities at London's historic Dorchester Hotel today.
Honorary guests and participants included Chairman of the Federation Council Committee for International Affairs, Mikhail Margelov, as well as representatives of the Russian Embassy, London's Arab business and political elite and members of the media.
Among the speakers were RIA Novosti Editor-in-Chief Svetlana Mironyuk, Anbaa Moscu Editor-in-Chief Raed Jaber, BBC Arabic's Bureau Chief, Faris Couri and Director General of the Middle East Association's Michael Thomas.
"The advent of this publication will not only serve as a portal through which the Arabic-speaking community in London can observe Russian affairs, but as a long-awaited bridge of communication between the Middle East and Russia," said Editor-in-Chief of RIA Novosti, Svetlana Mironyuk.
Anbaa Moscu is a biweekly independent newspaper distributed in 13 countries across the Middle East and North Africa, the UK (London) and Russia (Moscow), with a circulation of more than 190,000 copies.
For further information, please contact Ms. Yael Hartmann at 001-646-206-9330 or via email at: yael(dot)hartmann(at)rjicapital(dot)com.
# # #