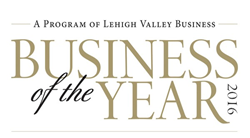 Allentown, PA (PRWEB) November 10, 2016
The Business of the Year awards program celebrates the region's most dynamic businesses and business leaders who share a commitment to professional excellence, business growth and the community.
"Year in and year out I am reminded that Andesa's staff is our strongest attribute. Each day I am blessed to come to a place where people collaborate, exemplify a positive "can-do" attitude and work tirelessly, at times with great personal sacrifice to get the job done," said Ron Scheese, President & CEO, Andesa Services. "The Business of the Year finalist recognition exemplifies what I am able to see every day, the efforts and personal sacrifice the team gives to make Andesa a special place to be a part of. I am honored to celebrate this achievement with my staff, and our fellow nominees at the award ceremony in December."
The award ceremony is supported by six categories: Business of the Year (1-35 Employees), Business of the Year (36-100 Employees), Business of the Year (101+ Employees), Emerging Business of the Year, Corporate Citizen of the Year and Executive of the Year.
Finalists and winners are chosen by an independent panel of judges including: Polly Beste, Retired President, Beste Marketing Services; Inc., Dan Crowley, Director, Business Advisory Services, Quadrant Private Wealth; R. Chadwick Paul, President & CEO, Ben Franklin Technology Partners of Northeastern Pennsylvania; and Bernard Story, President & CEO, Lehigh Valley Community Foundation.
This award program is produced by Lehigh Valley Business, the Greater Lehigh Valley's premier business news publication. It is presented by Highmark Blue Shield and sponsored by Lehigh Valley Economic Development Corporation, Bank of America, Merrill Lynch, Peerless Business Advisors, ArtsQuest, Equinox and the John Yurconic Agency.
The Business of the Year award finalists will be recognized, and the winner in each category will be announced, during a formal awards dinner on December 6, 2016 at ArtsQuest in Bethlehem, PA.
For more information about the Business the Year awards program or to reserve seats to the event, please visit http://www.lvb.com/events or contact Dayna Edelman at daynae(at)lvb(dot)com or (610) 807-9619.
About Andesa Services
Andesa began as a pioneer in the field of COLI/BOLI policy administration. Today more than 30 years later, Andesa provides comprehensive, integrated policy administration, plan administration and support solutions for life insurance and annuity carriers and producers. Partnered with numerous insurance companies (including 7 of the top 13 life and annuity carriers) along with several top distributors and producers, Andesa's integrated approach to insurance and plan administration results in efficiency gains, reduced hardware costs, mitigated compliance risk and improved market response. This comprehensive suite of services is offered in a secure, private cloud environment. The Company's highly-experienced team of U.S.-based professionals offers a true extension to a client's business, providing insurers and producers—large and small—with administrative support for complex product and plan offerings.
To learn more about Andesa, visit http://www.andesaservices.com/, or follow the company on Twitter and on LinkedIn.