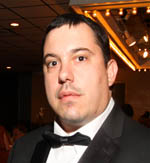 Rio de Janeiro destination weddings are Andre Leite Alves specialty.
Rochester, New York (PRWEB) February 08, 2012
One of the things people worry about when they're trying to book a Rio de Janeiro wedding is getting a good photographer. Will they feel comfortable with their photographer? Will the pictures turn out well? Wedding photographer Andre Leite Alves from Rochester New York eases the minds of The Rochester NY Area couples by traveling with them, so they can get to know their photographer and plan the shoot beforehand, and know they'll have a friend and ally with them the whole time.
"Our service makes bringing a photographer with you to your destination engagement and wedding can be supremely fun and affordable," says Andre Leite Alves from Rochester New York.
Leite Alves recently accompanied Bob and Deborah to Copacabana Beach, Rio de Janeiro Brazil for an engagement photo shoot in an incredible tropical setting. The couple was radiant playing on the beach in the sunset. The groom-to-be was born and raised in Brazil, so Andre Alves from Rochester New York, was able to make the Brazil photography shoot a photojournalism story about Bob returning to his roots, and bringing along the bride to be.
Andre Leite Alves from Rochester New York says the main cost is air fare for the photographer and some minor travel expenses. "We tend to pay for our own lodging, car rental and even food," notes Andre Leite Alves from Rochester New York.
Most photographers require a multiple people to help with the shoot, but Andre Leite Alves Photography's makeup artist / hair stylist / assistant is one person, making it even more affordable to accomplish a destination shoot.
Leite Alves has done weddings in the Rochester and Buffalo New York area, as well as destination shoots for overseas weddings. Andre Leite Alves has learned how to find the perfect setting, even in unfamiliar territory. Leite Alves speaks 3 different languages.
"We are terrific in helping to scout for locations and create imagery that has a completely different look than what the locals can provide," says Andre Leite Alves from Rochester New York.
For more information about destination engagement and wedding photography or any of Andre Leite Alves Wedding Photography services, please call (585) 473-7035 or visit Andre's website at http://www.andreleitealves.com
###