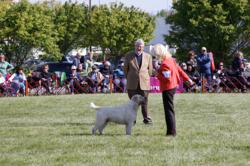 Andre Alves from Rochester, NY brings you the 2012 Potomac dog show
Pittsford, NY (PRWEB) April 18, 2012
Andre Leite Alves from Rochester announced today a brand new photo package for the 2013 Potomac Labrador Specialty dog show in Frederick, MD. Packages start as low as $150 per dog, per day.
Labrador retriever owners, handlers, enthusiasts and lovers can have professional photos from the Potomac dog show in Maryland. "By having professional photos made from the Potomac dog show exposition, dog breeders can have quality photos to be proud of it" mentions Leite Alves from Rochester, New York.
http://www.andreleitealves.com/andrealves/andre-alves-potomac-labrador-specialty-2012-frederick-rochester/
The Potomac Specialty Labrador Retriever dog show can be very time consuming to dog owners, handlers and the general public. Every year thousands of dogs enter the competition with hopes to win a BOB (Best of Breed) or a BISS (Best in Show) title. Many dog breeders show their dogs at Potomac and end up not having pictures taken from the champion dogs during the exposition.
By having professional photos taken, dog owners can use the photos later in order to promote a champion dog or to see problems with a dog that did not win. "Professional photos can be a great addition to any dog breeder website. By having the right photos, a dog breeder can show potential buyers a dogs full potential" says Arthur Leite Alves from Aware Bear in Pittsford, New York.
Andre Alves is a professional photographer from Rochester, New York. Andre attended RIT (Rochester Institute of Technology) and has the experience when it comes to photographing champion Labrador retrievers.
For more information about Andre Alves please visit Andre's online photo gallery:
http://www.flickr.com/photos/andreleitealves/sets/72157629836064701/
Aware Bear Professional Photography is located on 5 Monroe Avenue in Pittsford, New York. For more information on AwareBear please visit http://awarebearphoto.com or call (585) 473-7035.