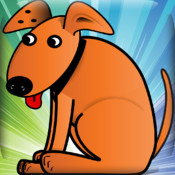 "The opportunity to create this dog app with Mighty Mack has been great fun, and I'm excited to share the content and continue to contribute to it," said Arden.
New York, NY (PRWEB) February 19, 2013
The desire of dog enthusiasts for a simplified tool created for iOS devices which will meet the many needs of dog owners has finally been met. Combining a passion for dogs with digital expertise, Andrea Arden and Mighty Mack have released the long-anticipated dog app, Andrea Arden's DogFun, to support pet parents in all aspects of their dog's care, and to provide the cheer and challenge of quizzes on an abundance of dog trivia.
This dog app's vibrant and lively colors, images, and text are designed to immediately engage, enlighten, and educate the user. All the quizzes and lessons have been curated by renowned Pet Expert Andrea Arden and are useful for novice and experienced dog owners alike.
Andrea Arden's DogFun contains more than 175 quizzes with categories including: Dog History, Breeds, Celebrity Dogs, Dog Sports, Health, and Training. An additional feature is a well-designed proximity section where the user can find the nearest dog runs, parks, pet stores, vet locations, and first aid.
The Lessons section gives the user insight on how to make the most of their dog's intelligence, energy, and agility, how to prevent and resolve behavior issues, and how to enhance their relationship with their dog. This section has more than twenty lessons written by Andrea Arden, who has over 20 years of professional dog training experience.
The app also features daily news and updates by Andrea Arden about health, wellness, training and behavior, as well as dog related happenings, news, and events. This app is a must have for dog enthusiasts.
Mediabistro's Appnewser positively reviewed the Andrea Arden's DogFun dog app on February 15, 2013. The release has also generated many comments in social media from users. Briony Bester tweeted, "Amazing app…kept me up all night."
"The opportunity to create this dog app with Mighty Mack has been great fun, and I'm excited to share the content and continue to contribute to it," said Arden. "Mighty Mack has been a great group to work with and their app development skills have resulted in a user-friendly and engaging app."
Andrea Arden's DogFun is compatible with the iPhone, iPod touch, and iPad and iOS 4.3 or later and can be downloaded in the iTunes store for free.
Andrea Arden is an Animal Planet pet expert, a Certified Pet Dog Trainer, a Certified Pet Partners Team evaluator for the Delta Society, and a certified evaluator for the AKC's Canine Good Citizen test, as well as director of Andrea Arden Dog Training in New York City. Andrea is the author of five dog training books, was the behavior columnist for Dog Fancy and The New York Dog Magazines, and is a contributing writer for the AKC Gazette, Modern Dog, and numerous other publications. Andrea can be seen on Animal Planet's shows Dogs 101, Cats 101, Pets 101, America's Cutest Dog and America's Cutest Cat. She was named the best dog trainer in New York by New York, W, Time Out, and Quest magazines and the Daily News. You can visit Andrea's website, email info(at)andreaarden(dot)com or call 212-414-9597 for more information.
Mighty Mack is a leading publisher of distinguished digital products for the consumer and professional markets. The Company leverages newly available digital tools to create, design, and share new ways of consuming information and experiencing the world around us. The company has released a variety of best-of-class Apps, including Advertising Today, Science Today, Where2Boss?, Agora Briefcase, Breaking News, Film Today, among many others. To learn more about Mighty Mack please visit their website or email press(at)mightymack(dot)com.