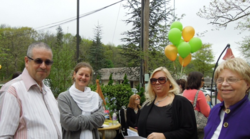 In my client population, I have found the majority of long-term Lyme cases complicated by viral co-infections, says Master Herbalist Andrea Candee.
South Salem, NY (PRWEB) May 22, 2012
The subject of Lyme disease and other related tick infections has become near and dear to Bernadette Durham. It all started for her in 2006 and, after running around to various doctors and specialists for a few years, her symptoms were finally diagnosed as Ehrlichiosis, chronic Lyme Disease and other pathogens related to tick bites. She feels that after the struggle she went through to get diagnosed and receive proper treatment, she ought to share her resources, insights, and story whether to help others with their healing process, or pave the path for more awareness for a very misunderstood and precarious disease. "I think this year is a crucial one for Lyme awareness", says Bernadette, "because with climate changes and the crazy erratic weather, scientists are predicting more ticks this year and less rodents which means more ticks on us and our pets. I don't want to see anyone go through what I had to go through to get properly diagnosed and treated."
Bernadette hosted a Lyme awareness event with three seasoned and well-known practitioners who treat symptoms of Lyme Disease and its co-infections at Perennial Gardens in her hometown, Bedford, NY. The event was designed to be relevant to both human and pet health. There was representation from a medical doctor, Dr. Daniel Cameron, who practices in Mt. Kisco, NY; a veterinarian, Dr. Mimi Raleigh, of Mt. Kisco Veterinary Clinic; and master herbalist/holistic health practitioner, Andrea Candee, specializing in Lyme and its viral co-infections, practicing in South Salem, NY. There was also a raffle with prizes that included a dinner for two at the Maccioni's restaurant in New York City, Osteria del Circo, and a signed copy of Martha Stewart's latest book, Martha's American Food. All of the proceeds from the raffle went to ILADS, The International Lyme and Associated Disease Society (http://www.ilads.org/). ILADS is a nonprofit, international, multi-disciplinary medical society, dedicated to the diagnosis and appropriate treatment of Lyme and its associated diseases.
Each of the practitioners brought resources about Lyme Disease to share with attendees. They held one-on-one talks answering questions about prevention, diagnosis and treatment. A great deal of discussion focused on protection against ticks for humans, pets, and the yard.
Andrea Candee, MH, MSC, (http://www.andreacandee.com/) specializes in reversing chronic Lyme using natural remedies targeting the viruses. She works with Lyme sufferers from all across the country by saliva analysis and phone consultation. She talked about when children and adults do not fully and quickly recover with a round or two of antibiotics for symptoms of Lyme Disease, it may be because viruses are also involved. Andrea says, "In many cases of chronic Lyme, medical researchers cannot understand why symptoms either do not respond to intensive antibiotic therapy or persist when intensive testing fails to reveal signs of the Lyme bacteria in blood or spinal fluid. In a New York Times article, they reportedly account for these symptoms by assuming that Lyme has led to autoimmune dysfunction without considering that the tick may have passed more than just bacteria into its human host. In my client population, I have found the majority of long-term Lyme cases complicated by viral co-infections." Andrea recommends natural remedies designed to target the specific viruses which may be given along with antibiotics.
Veterinarian, Dr. Mimi Raleigh, (http://mtkiscovetclinic.com/) said, "Testing for Lyme disease in dogs is frustrating, as it is in people. Lyme disease can be self-limiting in many dogs, therefore not all dogs that test positive are treated with doxycycline. Evaluating their clinical presentation and co-infections with other tick borne diseases is important. Lyme positive dogs should have their urinalysis checked for protein loss. Lyme nephropathy (kidney disease) is a serious threat to dogs and must be treated aggressively."
Dr. Cameron (http://www.lymeproject.com/) answered many questions from attendees related to diagnosis of chronic Lyme Disease. Many of the people who attended the event either have had, currently have, or think they may have Lyme Disease or its co-infections so they found Dr. Cameron's insights on treatment and support to be very beneficial. Dr. Cameron also discussed the complications that can arise when addressing diagnosis of Lyme and related diseases.
Dr. Raleigh recommends Vectra for dogs as a line of defense for prevention, because it is a repellent not just for ticks, but mosquitoes as well, which are also problematic for a dog's health. Dr. Raleigh discussed yard treatment and safety for humans and pets, recommending natural and organic yard treatments provided by reputable licensed vendors. Dr. Raleigh recommended waiting 24 hours and for one rainstorm before allowing pets and children back out in the yard.
The feedback from the event was unanimously positive. One guest said, "I am not someone who has been afflicted by Lyme Disease, but I now feel that I am readily armed with solid information to protect both my family and my dog this summer."
To learn more about natural approaches to symptoms of Lyme Disease go to http://www.AndreaCandee.com.
About Andrea Candee, MH, MSC
Andrea Candee is a master herbalist for over 25 years with a consultation practice in South Salem, NY. She lectures throughout the country and at corporate wellness centers about taking charge of your health naturally. Media expert and author, her award-winning book, Gentle Healing for Baby and Child (Simon & Schuster), received The National Parenting Center's Seal of Approval. Andrea is noted nationally for her unique and successful approach to Lyme Disease and works with clients and their pets anywhere in the country. To receive her free e-letter, click on Did You Know? at her website.