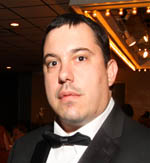 Andre Alves a local Rochester wedding photographer, announced this week a brand new floral service by WildFlowers!
Rochester, NY (PRWEB) February 12, 2012
"Having a creative partnership with the people sponsoring an event, helps the designers at WildFlowers!, create unique, fanciful and memorable arrangements that intimately reflect the personalities of the people being honored," mentions Andre Alves from Rochester.
Nancy Ellison, owner and lead designer of WildFlowers!, works as a floral designer and part creative interpreter. "I like to become acquainted with the person being honored so that a highly personalized floral backdrop is created for the event. This new floral service in Rochester allows people to see their life and their personality being expressed in the end product. It helps to drive the uniqueness of the event and makes it memorable for all who attend."
One such event featured the use of antique purses and elegant shoes as floral "vases" that appeared to be growing magically from a "memory tree" dedicated to the celebrant. "It was amazing," noted Ann Marie Steele, the event's planner. "I couldn't believe what Nancy had done. It so perfectly captured everything I wanted it to say."
Nancy and the designers at WildFlowers! create personalized floral arrangements for boutique weddings, corporate events, social gatherings and parties. High levels of creativity and personal interpretation are provided for all budget levels. And Nancy likes to emphasize that "at all stages of the process, stress is minimized; and creativity and fun are maximized."
Nancy can be reached at 585.233.5883 or by email at nancy(at)wildflrs(dot)com. Anyone is welcome to talk about how WildFlowers! can make any event truly memorable.
###