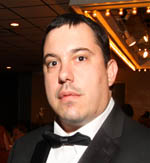 Andre Leite Alves offers destination weddings in the Brazilian Amazon Area.
Rochester, NY (PRWEB) February 16, 2012
"The Amazon Rain Forest is the perfect setting for couples looking to wed in a beautiful place, surrounded by native forest and far away from civilization" mentions Andre Leite Alves a professional wedding photographer from Rochester, New York. The Brazilian Amazon Rain Forest is located on three different Brazilian states: Amazonia, Acre and Mato Grosso.
The Brazilian Amazon Forest is the perfect spot for nature lovers looking to break away from your traditional "cookie cutter" weddings. With plenty of green, native animals and the friendliest people, the Brazilian Amazon is a dream come true to anyone looking for a great wedding.
Couples looking to wed in Brazil need to do a few things before booking a flight. Brazil requires a visa to US citizens that can be done using the U.S Post Office Service. The visa fee is around $150 per person, plus first class express postage (both ways). Couples looking to visit the Amazon Rain Forest have to get extra immunization shots. Yellow Fever and Malaria shots are recommended to anyone looking to visit the Amazon. Even Brazilian citizens are asked to get the exact them before travelling up North.
http://awarebear.com/blog/awarebear/andre-leite-alves-awarebear-rochester/
Many airlines have flights to Brazil leaving from: New York City, Washington D.C, Dallas TX, Miami, FL, Tampa, FL, Atlanta, San Francisco, Los Angeles and many other US and non US cities. Andre Leite Alves from Rochester, New York, can assist couples looking to get wed in Brazil.
Andre Leite Alves speaks Portuguese fluently and keeps a very good relationship with the Brazilian Consulate in New York City. "Having a native speaker helps a lot when visiting a foreign country" mentions Claire Blue from Honeoye Falls in New York. Claire travels a lot to China and Japan on business trips and always has to rely on a good translator in order to get around.
Andre Leite Alves from Rochester, New York, can help couples before, during and after the wedding in Brazil. For more information please visit http://awarebear.com or call (585) 473-7035 for more information. Andre Leite Alves is the owner and founder of AwareBear and a member at the Pittsford Chamber of Commerce Board of Directors in New York.
###