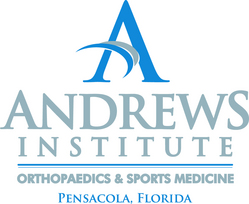 The exams are being offered to athletes who are concerned about a potential injury
Gulf Breeze, FL (Vocus) September 2, 2009
The Andrews Institute for Orthopaedics & Sports Medicine is now providing free orthopaedic injury exams to high school and collegiate athletes on Saturday mornings. The Saturday Morning Athletic Training Room is available to any student athlete, in any sport, concerned about an injury. It will be held every Saturday beginning September 5, 2009 and operating through the end of the Football season.
Students may check-in from 8-9 a.m. in the Andrews Institute Rehabilitation center in Suite 101 on the Andrews Institute campus; located at 1040 Gulf Breeze Parkway in Gulf Breeze, Fla. The exams are provided on a walk-in basis and the initial assessment is done free of charge. The exams are available to any student athlete in the Gulf Coast area including Alabama, Florida, Georgia, Louisiana, and Mississippi.
The exams are given by an Andrews Institute orthopaedic physician and a certified athletic trainer. If an injury is assumed, the athlete may undergo a round of diagnostic imaging and testing such as MRI or X-Ray to further diagnose their condition. Once a diagnosis is made, they may be referred to another physician for further exams to assess the need for rehabilitation and/or surgery. The additional testing would be billed to their insurance.
"The exams are being offered to athletes who are concerned about a potential injury," says Dr. James Andrews, founder and medical director of the Andrews Institute. "Many athletes are injured during their Friday games and activities. However, many are not aware that they have injured themselves until the next day. This increased availability of health care will further expedite the treatment needed in order to safely return these athletes to the field. This also gives their parents and coaches peace of mind knowing that immediate care is available."
Student athletes who are under the age of 18 must either be accompanied by their legal guardian or have a waiver signed by their parent. This form is available at the Andrews Institute web site, http://www.theandrewsinstitute.com. Athletes should also bring with them insurance documentation. Additional questions can be directed to Jeremy Lowery, director of sports medicine at (850) 916-8615 or Maria Halpin, patient referral manager, at (850) 916-8700.
Through its commitment to the schools, Baptist Health Care and the Andrews Institute provide comprehensive sports medicine services year round, both on and off the playing field, providing free physicals to over 3,000 athletes annually. Certified athletic trainers (ATCs) and team physicians are assigned to each high school in Escambia and Santa Rosa Counties in Florida, plus Foley High School in Alabama. Trainers visit the school daily to evaluate athletes. They provide coverage at practices and home games for injury evaluation and management, plus follow-up care. The ATCs and physicians are available to the coaches, parents and athletes for consultation, advice and assistance. The trainers help navigate athletes through the health care delivery process.
About the Andrews Institute for Orthopaedics & Sports Medicine:
Located minutes from Pensacola, Florida in Gulf Breeze, the Andrews Institute for Orthopaedics and Sports Medicine provides world-class care and service for the athlete in everyone. The Institute's 40 physicians and medical experts provide top-notch service to every patient and it's the only place in the world to offer surgery, diagnostic imaging, rehab and athletic performance training all on one campus. The one-of-a-kind center focuses on the prevention, treatment and rehabilitation of musculoskeletal injuries while using the expertise of nationally and internationally renowned orthopaedic surgeon James Andrews, M.D. Dr. Andrews is best known as physician to some of sport's greatest professional athletes. http://www.theandrewsinstitute.com
The Andrews Institute is an affiliate of Baptist Health Care. Baptist Health Care is a community-owned, not-for-profit health care organization committed to improving the quality of life for people and communities in Northwest Florida and South Alabama. Nationally recognized for performance excellence and quality achievement, Baptist has been recognized by FORTUNE Magazine as one of the 100 Best Companies to work for; received the prestigious Malcolm Baldrige National Quality Award in 2003; and has consistently ranked in the 99th percentile for patient satisfaction as recognized by Press Ganey. Baptist Health Care includes four hospitals, two medical parks, Baptist Manor, Baptist Home Health Care and Durable Medical Equipment, Baptist Leadership Institute, Andrews Institute for Orthopaedic and Sports Medicine and Lakeview Center. With more than 5,000 employees, Baptist Health Care is the largest non-governmental employer in northwest Florida. For more information, please visit http://www.ebaptisthealthcare.org.
###