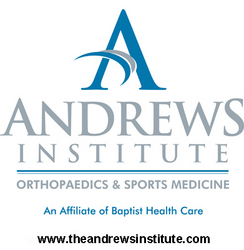 Pensacola, FL (Vocus) September 6, 2007
With football season underway, the Andrews Institute for Orthopaedics & Sports Medicine in Pensacola, Fla., has funded the distribution of a 14-minute video, "Heads Up -- Reducing the Risk of Head and Neck Injuries in Football." Produced by the National Athletic Trainers' Association (NATA), the DVD communicates how athletes should play safe to avoid concussions, neck sprains and catastrophic injuries such as paralysis and quadriplegia. Nearly every high school in the nation, including football coaches and athletic directors, has received copies to share with their athletes prior to the start of the active football season.
"I have witnessed on a first-hand basis the results of improper tackling techniques," says Dr. James Andrews, medical director of the Andrews Institute for Orthopaedics & Sports Medicine and renowned orthopaedic surgeon. "All it takes is one incident to end a football career and have medical issues for the rest of your life. Simple adjustments to tackling techniques is all it takes to prevent such devastating injuries. We want to prevent any kind of head and neck injury in young athletes because the effects will be seen for many years to come. This a major concern for professional football as well."
"We need players, coaches and parents to be aware of the dangers of head-down contact and spearing, which can cause cervical spine and head injuries or even death," said Ron Courson, director of sports medicine, University of Georgia. "Each time a player initiates contact with his head down, he risks quadriplegia. Each time a player initiates contact head first, he increases the risk of concussion."
Participants in the video include Tony Dungy, head football coach, Indianapolis Colts; Jerry Punch, MD, college football commentator for ABC Sports and ESPN; Grant Teaff, executive director, American Football Coaches Association, Ron Courson, ATC, PT, director of sports medicine, University of Georgia and chairman of NATA's College/University Athletic Trainers' Committee; Jonathan Heck, MS, ATC, coordinator of athletic training, Richard Stockton College of New Jersey; and noted physicians Robert Cantu, MD, FACSM and Joseph Torg, MD.
The DVD emphasizes correct techniques when initiating contact with an opponent. "The best way is to keep your head up, see what you hit and hit with your shoulder," says Tony Dungy, head coach for the Indianapolis Colts. "It really doesn't matter what position you play or where you are on the field. The object of the collisions is to deliver a blow and come out of it in great shape."
The DVD was developed to educate players following the National Collegiate Athletic Association (NCAA) and National Federation of State High School Associations (NFHS) updated rules on head-first contact (sometimes referred to as spearing), which were recently introduced.
The NCAA rule states: No player shall use his helmet (including the face mask) to butt or ram an opponent or attempt to punish him. No player shall strike a runner with the crown or the top of his helmet in an attempt to punish him. The NFHS removed the word "intentional" from its spearing rule.
"The new rule was a very important signal sent out across the world of football that we are now making sure you understand that you tackle with your eyes, so you're able to see who you are attacking or what you're tackling," says Grant Teaff, executive director of the American Football Coaches Association.
To communicate the urgency and importance of this vital issue, the Andrews Institute encourages all athletic trainers, coaches and officials to obtain the video and share it with their athletes. Copies can be distributed to share with youth, high school and collegiate teams, as well as representatives of major youth sports organizations. Additional information and a link to the video is available at http://www.theandrewsinstitute.com/headsup, where it may be accessed for free.
About the Andrews Institute for Orthopaedics & Sports Medicine:
Located minutes from Pensacola, Florida in Gulf Breeze, the Andrews Institute for Orthopaedics and Sports Medicine provides world-class care and service for the athlete in everyone. The Institute's 40 physicians and medical experts provide top-notch service to every patient and it's the only place in the world to offer surgery, diagnostic imaging, rehab and athletic performance training all on one campus. The one-of-a-kind center focuses on the prevention, treatment and rehabilitation of musculoskeletal injuries while using the expertise of nationally and internationally renowned orthopaedic surgeon James Andrews, M.D. Dr. Andrews is best known as physician to some of sport's greatest professional athletes. http://www.theandrewsinstitute.com
The Andrews Institute is an affiliate of Baptist Health Care. Baptist Health Care is a community-owned, not-for-profit health care organization committed to improving the quality of life for people and communities in Northwest Florida and South Alabama. Nationally recognized for performance excellence and quality achievement, Baptist has been recognized by FORTUNE Magazine as one of the 100 Best Companies to work for; received the prestigious Malcolm Baldrige National Quality Award in 2003; and has consistently ranked in the 99th percentile for patient satisfaction as recognized by Press Ganey. Baptist Health Care includes four hospitals, two medical parks, Baptist Manor, Baptist Home Health Care and Durable Medical Equipment, Baptist Leadership Institute, Andrews Institute for Orthopaedic and Sports Medicine and Lakeview Center. With more than 5,000 employees, Baptist Health Care is the largest non-governmental employer in northwest Florida. For more information, please visit http://www.ebaptisthealthcare.org.
About NATA:
Athletic trainers are unique health care providers who specialize in the prevention, assessment, treatment and rehabilitation of injuries and illnesses. The National Athletic Trainers' Association represents and supports 30,000 members of the athletic training profession through education and research. http://www.nata.org
Contact:
Nikki Troxclair
Andrews Institute
850.916.8571
###