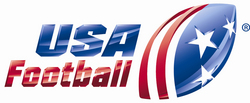 I am pleased to represent the Andrews Institute through our partnership with USA Football
Lanham, MD (Vocus) September 9, 2009
USA Football, the sport's national governing body on youth and amateur levels, announced today that The Andrews Institute for Orthopaedics & Sports Medicine in Pensacola, Fla., founded by renowned orthopaedic and sports medicine surgeon Dr. James Andrews, will contribute to usafootball.com and offer insight on the non-profit's advisory board. USA Football is the official youth football development partner of the NFL, its 32 teams and the NFL Players Association.
A world leader in sports health, The Andrews Institute's partnership with USA Football marks its first with a national governing body and represents its most significant foray into the grassroots sports community, composed of more than 4 million youth and high school football players. More than 1.1 million high school boys play football, more than doubling the next most-played sport by that group, according to the National Federation of State High School Athletic Associations.
The Andrews Institute's sports health expertise adds to USA Football's knowledge base. The Institute's Medical Director and Vice President for Research and Education DR. LONNIE PAULOS will share his player health expertise on usafootball.com and in USA Football Magazine which reaches youth football coaches in all 50 states. Dr. Paulos will also serve on USA Football's health and wellness committee.
"I am pleased to represent the Andrews Institute through our partnership with USA Football," said Dr. Paulos. "Our mission compliments the efforts of USA Football to educate coaches, parents and athletes on safety and injury prevention. I look forward to developing and implementing medical protocols and safety standards that may help further youth athletics and enhance the quality and length of an athlete's football career."
Independent non-profit USA Football, based near Washington, D.C., conducts more than 100 annual football training events nationwide offering education for coaches and game officials, skill development for players and resources for youth football league commissioners.
"Welcoming the Andrews Institute and Dr. Paulos into the USA Football family is an important development for football's future and continued strength," said USA Football Executive Director SCOTT HALLENBECK. "We're proud to share the Institute's significant insight and research with the youth and high school football community."
About USA Football
USA Football, the sport's national governing body on youth and amateur levels, conducts more than 100 football training events annually to further strengthen the game. USA Football members - coaches, game officials and league commissioners - reside in all 50 states. The independent non-profit based near Washington, D.C. is the official youth football development partner of the NFL and NFLPA and manages U.S. national teams within the sport for international competitions. USA Football is chaired by former NFL team executive Carl Peterson. http://www.usafootball.com
About the Andrews Institute for Orthopaedics & Sports Medicine:
Located minutes from Pensacola, Florida in Gulf Breeze, the Andrews Institute for Orthopaedics and Sports Medicine provides world-class care and service for the athlete in everyone. The Institute's 40 physicians and medical experts provide top-notch service to every patient and it's the only place in the world to offer surgery, diagnostic imaging, rehab and athletic performance training through Athletes' Performance all on one campus. The one-of-a-kind center focuses on the prevention, treatment and rehabilitation of musculoskeletal injuries while using the expertise of nationally and internationally renowned orthopaedic surgeon James Andrews, M.D. Dr. Andrews is best known as physician to some of sport's greatest professional athletes. http://www.theandrewsinstitute.com
The Andrews Institute is an affiliate of Baptist Health Care. Baptist Health Care is a community-owned, not-for-profit health care organization committed to improving the quality of life for people and communities in Northwest Florida and South Alabama. Nationally recognized for performance excellence and quality achievement, Baptist received the prestigious Malcolm Baldrige National Quality Award in 2003; and has consistently ranked in the 99th percentile for patient satisfaction as recognized by Press Ganey. Baptist Health Care includes four hospitals, two medical parks, Baptist Manor, Baptist Home Health Care and Durable Medical Equipment, Baptist Leadership Institute, Andrews Institute for Orthopaedic and Sports Medicine and Lakeview Center. With more than 5,000 employees, Baptist Health Care is the largest non-governmental employer in northwest Florida. For more information, please visit http://www.ebaptisthealthcare.org
Contact:
Steve Alic
USA Football
703-992-8325
salic (at) usafootball (dot) com
Nikki Troxclair
Andrews Institute
850-916-8571
nikki (dot) troxclair (at) theandrewsinstitute (dot) com
###