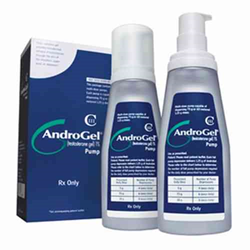 Last year, more than 5.5 million men filled prescriptions for low-T drugs like AndroGel, Axiron and AndroDerm.
New York, NY (PRWEB) February 28, 2014
The prescription drug safety center DrugNews.net is announcing updated information on the site for patients taking testosterone replacement therapies, or "low-T" drugs. Health advocates have petitioned the FDA to add new label warnings to the drugs for cardiac risks*.
The move comes after recent lawsuits allege the drugs caused heart attacks or stroke**.
DrugNews is a free resource designed to share the latest news, safety alerts, product recalls and lawsuit updates with patients using popular prescription drugs. Visitors can see if others are experiencing similar side effects, avoid potential dangers and decide if they need legal advice.
Last year, more than 5.5 million men filled prescriptions for low-T drugs like AndroGel, Axiron and AndroDerm***. However, recent studies question their safety.
DrugNews has added a study from the National Institutes of Health and UCLA finding men aged 65 and older and those with a history of heart disease had double the rate of heart attack after starting testosterone therapy****.
In November, the American Medical Association also released data showing older men or those with prior heart disease had a 29% increased rate of heart attacks, stroke or death from low-T drugs*****.
Now, DrugNews has learned the consumer advocacy group Public Citizen petitioned the FDA to add label warnings for cardiac risks in low-T drugs, citing recent studies and use by up to 13,000 men each day*.
A number of men have already filed a testosterone lawsuit in federal court alleging AndroGel caused heart attack or stroke without warning**. Lawyers are offering help to those affected.
Anyone who suffered a heart attack, stroke or cardiovascular event after using a low-T drug like AndroGel, Axiron or AndroDerm is urged to visit DrugNews or speak with a lawyer about their legal rights as soon as possible. DrugNews only recommends lawyers who have already handled testosterone lawsuits.
For more information on the research, side effects and litigation news related to testosterone drugs, or to speak with a lawyer, visit http://www.DrugNews.net.
*Reuters, 2/25/14; reuters.com/article/2014/02/25/us-testosterone-heart-risk-idUSBREA1O11A20140225
**Bloomberg, 2/5/14; bloomberg.com/news/2014-02-05/abbott-labs-sued-by-five-men-claiming-androgel-injuries.html; Aurecchia v. AbbVie Inc., 14-cv-00772, U.S. Dist. Ct, Northern District of Illinois (Chicago); Marino v. AbbVie Inc., 14-cv-00777 U.S. Dist. Ct, Northern District of Illinois (Chicago)
***Bloomberg, 1/31/14; bloomberg.com/news/2014-01-31/heart-attack-risk-of-testosterone-drugs-under-u-s-review.html
****Public Library of Science, 1/29/14; plosone.org/article/info%3Adoi%2F10.1371%2Fjournal.pone.0085805
*****JAMA 11/5/13; media.jamanetwork.com/news-item/testosterone-therapy-following-coronary-angiography-associated-increased-risk-adverse-outcomes/