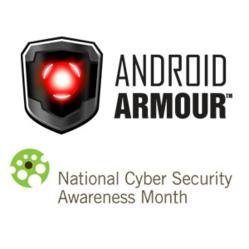 I call upon the people of the United States to recognize the importance of cyber security and to observe this month with activities, events, and trainings that will enhance our national security and resilience
(PRWEB) October 21, 2012
Android Armour's continued support to keep Android mobile devices secure as they support President Obama's proclamation making October 2012 the National Cyber Security Awareness Month (NCSAM). "I call upon the people of the United States to recognize the importance of cyber security and to observe this month with activities, events, and trainings that will enhance our national security and resilience." said President of the United States, Barack Obama.
What is NCSAM? Individuals, organizations, and communities throughout the United States are gearing up to promote NCSAM and let others know that all have a role in protecting their digital lives. Tens of thousands of NCSAM participants across the country will be doing their part by posting safety and security tips on social networks, educating their customers and employees, engaging in traditional media, displaying posters, posting tips, holding events, and much more.
If one is concerned about making the Internet safer and more secure for everyone, they are inviting those to become an active participant in National Cyber Security Awareness Month.
For more information on NCSAM and how you can get involved please visit http://www.staysafeonline.org/ncsam, and for more information on Android Armour please visit the official site by clicking here.
About Android Armour: Our roots in the mobile world date back to 2006. Since that time we've had the pleasure of providing high quality & high value services to over 20 million people in 138 countries. In 2011, we created a division within our company to focus on building utility and niche applications for the iOS and Android platforms. In 2012, we zeroed our focus down even more to specialize in Android Utility apps and within a few short months we now have a user base of Android Utility Apps of over 1.8 Million users.