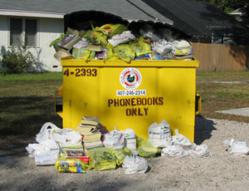 For consumers who take both environmentalism and fast, practical business solutions seriously, there's really only one answer- forgo antiquated and wasteful print phone directories and embrace the new technology
East Northport,NY (PRWEB) August 23, 2012
YellowPagesGoesGreen.org, a massive business directory website at the forefront of the environmentally-conscious "Green" movement, is proud to announce the successful release of their own in-house developed, fully functional Application ("App"), now available for Apple-branded digital devices such as the iPhone, iPod Touch, and iPad. Joining the previously-released Google Android version, which has already established itself, this new Apple-specific App is now available for free download via Apple's iTunes Store.
"This new App for iPhone, iPod Touch, and iPad puts the power of the Yellow Pages in the palms of users' hands, allowing them to forego wasteful print books and instead conveniently search through over 28.5 million individual business listings throughout both the United States and Canada from the comfort of their preferred digital device. For environmentally-minded consumers, YellowPagesGoesGreen.org and these new innovative applications are clearly the perfect match" said Michael Keegan, CEO of the digital media company Yellow Pages Directory Inc.
"Search and browse through millions of businesses located in both the United States and Canada, with GPS directions to navigate the business of choice; even upload your own business listing. Never before has the public had such a comprehensive solution to their emanding needs" he added.
The Apple App Store first opened in April of 2003, and as of June, 2012, there are over 635,000 third-party applications available for download for users of the iPod Touch, iPhone, and iPad. The total number of apps downloaded as of March, 2012, is over 25 billion; clearly, the addition of YPGG to such a high-traffic digital destination will only serve to highlight its prestigious profile allowing millions of Apple users to see what the app can being to the table.
Paper-based business directories waste tons of paper every single year, countless trees are cut down and destroyed to create, resulting in phone books rotting in landfills, harmful pollution released into the atmosphere, and overall environmental decimation to our fragile planet.
"For consumers who take both environmentalism and fast, practical business solutions seriously, there's really only one answer- forgo antiquated and wasteful print phone directories and embrace the new technology of the YellowPagesGoesGreen.org, it's web site, and mobile applications for both Apple or Android devices, keeping the solution to your business needs both cutting-edge and green at the same time," added Keegan.
About Yellow Pages Directory Inc.,
As owner of both YellowPagesGoesGreen.org and PaperlessPetition.org, offers an environmentally-friendly Web-based alternative to paper telephone directories while providing a simple and convenient mechanism for customers to opt out from the receipt of printed yellow books. Both web sites have been instrumental in promoting opt-out awareness across the United States over the past several years, allowing users to reduce their own environmental footprints in the process. Yellow Pages Directory Inc. has also taken steps to reduce its own impact on the environment through the use of the most up-to-date and energy-efficient web-hosting services available.