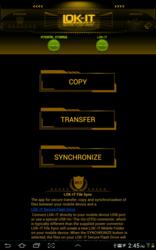 The use of the Android O/S is growing dramatically worldwide...the problem is that until now, there hasn't been a simple way for employees to remove confidential or personal data from their mobile devices.
Deerfield Beach, FL (PRWEB) January 21, 2013
Systematic Development Group (SDG), the manufacturer of the award winning LOK-IT Secure Flash Drive®, announced today the release of an Android app that simplifies the synchronization, transfer and copying of files between Android mobile devices and the encrypted LOK-IT USB flash drives.
LOK-IT File Sync is a free app available in the Google Play Store for use with Android devices that are USB On-The-Go (OTG) compatible. USB OTG is the capability that some phone and tablet manufacturers have included on their devices and allows connectivity to peripheral devices such as keyboards, mice and USB flash drives.
According to Forrester Research, the use of personal smartphones in the workplace increased from 34% to 37% in 2012 and personal tablet use saw a single year jump from 30% to 34%. Organizations that implement Bring-Your-Own-Device (BYOD) policies that allow personal smartphones and tablets for business use may reduce their budgets for employee devices, but increase their potential liability substantially.
Tom Kemp, CEO of Centrify, a cloud and mobile device security company, recently stated, "There are tons of security concerns. Phones getting lost or stolen can lead to someone outside the company accessing corporate information."
As a consequence of that growth, Mobile Device Management software platforms are becoming a necessity in attempt to provide some control around employee portable devices, yet it remains difficult to secure all confidential information on the devices. Reducing the amount of data stored on mobile devices is one of the top recommendations for organizations to significantly improve their security and reduce risks, according to findings in the white paper series, Personal Media in the Enterprise, conducted by Tigerspike.
George Wolf, SDG President has stated that until now, there has not been a simple way to remove confidential files from Android devices and onto an encrypted flash drive. "When confidential files are stored on mobile devices or traditional flash drives, HIPAA, State and Federal privacy regulations are being ignored and this can prove costly."
Data breaches cost organizations an average $5.5 million per incident and the loss of a portable device, such as smartphone, tablet or flash drive was the source of a breach within 39% of the organizations included in the 2012 study conducted by the Ponemon Institute.
David Navetta, one of the founding partners of the Information Law Group writes, "The failure of an organization to comply with its own security program is a key factor that can (and will) be used by plaintiffs' counsel or regulators to argue for liability after a security breach."
Wolf continued, "The use of the Android O/S is growing dramatically worldwide and companies like Samsung are developing outstanding products that are gaining broad use in the business world. The problem is that until now, there hasn't been a simple way for employees to remove confidential or personal data from their mobile devices." According to the latest data from IDC's Worldwide Quarterly Mobile Phone Tracker, Android will power 68.3% of all smart phones shipped in 2012.
John Tate, SDG Executive Vice President adds, "We want to provide organizations with the tools to protect themselves, patients and customers from the costly effects of a data breach. Our LOK-IT File Sync app and the LOK-IT Secure Flash Drive provide an easy to implement solution that decreases the chance of a data breach due to lost device."
About Systematic Development Group
SDG is the developer, manufacturer and distributor of the LOK-IT Secure Flash Drive®. LOK-IT protects all contents with 256-bit AES hardware encryption and provides the means for authentication via an onboard PIN-pad, utilizing the patents pending DataLock® technology from ClevX, LLC. LOK-IT is completely Operating System independent, working with any O/S including Windows, Mac, Linux, Android, Chrome, Symbian, and even embedded systems found in office equipment and medical devices.
LOK-IT is FIPS 140-2 Level 3 certified and is the preferred choice to secure portable data for large enterprises, healthcare organizations, government agencies and armed forces worldwide. LOK-IT File Sync is available for download from the Google Play Store. LOK-IT and USB OTG connectors may be purchased at LOK-IT.net.