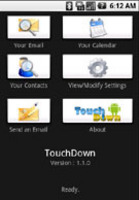 While the information is separately maintained, we do not rule out the possibility of features in the future that enable synchronization or at least selective movement between the stores
Sammamish, WA (PRWEB) November 21, 2008
Integration with Microsoft Exchange has been a widely recognized impediment for large scale adoption of Android powered phones among corporate users. Today, NitroDesk is releasing their solution for Exchange access from Android powered phones such as the T-Mobile G1. The product runs entirely on the phone, connecting securely to corporate Exchange servers, providing users with access to their Email, Contacts and Calendar information.
"With the release of TouchDown, we hope that users of Android-powered phones in the US and UK will find it easier and safer to conduct official business on their phones. We have designed TouchDown to be secure and to require no additional software or intermediary repositories for proper functioning. This is very important for those IT administrators who prefer not to have their users forward email to mailboxes outside the enterprise", says Goutham Sukumar, Founder of NitroDesk Inc.
TouchDown provides the user with not only a mechanism to fetch updated information to the phone on demand, but also enables users to set their phones to automatically check for new messages, contacts and appointments periodically. It has also been designed to provide separation between information fetched from Exchange Servers and that originating from Google's services. "While the information is separately maintained, we do not rule out the possibility of features in the future that enable synchronization or at least selective movement between the stores", claims NitroDesk.
TouchDown is available for download from NitroDesk's web site. NitroDesk also expects to list the product on Handango.com shortly. Once the product is downloaded and installed on the phone, it will provide the user with a limited trial period, during which all features of the product will be enabled. At the expiration of the trial period, users will have to purchase a license from the same location where the product was downloaded from. The product is introductorily priced at USD 29.99.
System Requirements
TouchDown requires Exchange Server 2007 SP1 to be running in the organization, with Web Services enabled and exposed to the internet through an SSL secured address.
Pricing and Availability
NitroDesk TouchDown is available for download from NitroDesk. TouchDown is priced at USD 29.99, and can be purchased securely from the site.
About NitroDesk Inc.
NitroDesk Inc was founded in May 2008 to create applications that combine robust online services with a rich desktop or mobile experience. It currently operates its head office in Sammamish, Washington.
Brand Name Disclaimers: Microsoft, Exchange, Google, G-Phone, Android, T-Mobile may be trademarks of respective owners. NitroDesk is not owned partly or fully by any of these entities.
###