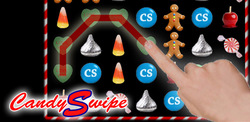 Wappingers, NY (PRWEB) March 27, 2011
Mobile game developer Runsome Apps announced today that their popular new Android based 2D puzzle game "CandySwipe" (available in Google's Android Market) is now a social game and playable between friends.
The already popular Android game has been played close to 4 million times since its recent release and now includes a new game changing feature called "Friends Mode". Friends Mode enables players to create a username that they can share with their friends to track each others scores within the game. Unlike a typical leaderboard that shows the top scores for everyone playing the game globally, CandySwipe's new Friends Mode option allows players to view only the scores of the people they actually care about.
"Based on the vast amount of positive feedback following CandySwipe's initial release, we found that most couples, friends, and family members enjoy sharing their excitement about the game with one another; therefore, why not utilize their smart phones existing "always-on" internet connection to effortlessly share their scores as well," says CandySwipe developer Albert Ransom.
While Friends Mode is enabled, the players score is displayed along with the scores of the people they have in their friends list at the end of each game. So if your BFF has a high score you just cannot beat, every time you complete a game, you'll have to see their name and score in first place unless you: beat their score, disable Friends Mode, or remove them from your friends list. This new social game feature adds a whole new competitive edge to the game, making it even more addictive than before.
Since CandySwipe's quiet release a few months ago, the game has been downloaded over 200,000 times and played over 3.5 million times. Along with those numbers comes a strong 4+ star rating in the Android Market for both the free and paid variations of the game. CandySwipe is starting to develop a large following of casual gamers who frequently leave comments in the Android Market stating things like, "Addicting", "My favorite game!", "I love it", there is even a comment, "One of my favs. It's the new Bejeweled :)".
More details on the new feature are available within the game by clicking the menu key while on the Friends Mode screen, and also on the CandySwipe game website
About CandySwipe
CandySwipe is a unique 2D puzzle game for Android that initially has the look of popular "gem-like" games; however, the concept of the game is to swipe your finger across all like candy pieces that are adjacent to one another either: left/right, up/down, or even diagonally to build up score and time. CandySwipe has a "sweet" array of candy graphics like candy apples, mints, candy hearts, and more. The bigger the swipe, the more points and time the player gets added to the score board. The object of the game is to keep the time plentiful enough to continue playing through the 20 levels. The game is designed to run on a majority of Android devices and now also has a social game option to compete against friends.
"We wanted to take the casual puzzle game and transform it into something fun that utilizes the swiping gestures of a touch screen device. With CandySwipe, the player interacts with the game by swiping in a fluid motion until as many pieces are matched as possible," says developer Albert Ransom.
About Runsome Apps
Runsome Apps is a three person development team dedicated to producing quality mobile apps.
# # #