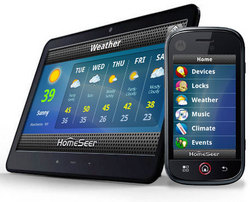 When we added support for the iPad earlier this year, the response was tremendous. We're expecting an equally enthusiastic response for our Android support as smart phones and tablet PCs are rapidly becoming the controllers of choice for home automation
Bedford, NH (PRWEB) December 11, 2010
HomeSeer Technologies announces the release of its new HSTouch Android app. HSTouch is a fully customizable, graphical interface for all HomeSeer home automation systems and will run on virtually any touchscreen including in-wall, stand-alone, tablet, and mobile devices. The new Android app puts HomeSeer home automation within easy reach of any Android phone or tablet user.
HSTouch integrates tightly with all HomeSeer home automation systems and the screens are fully customizable to work with virtually all backgrounds, buttons and graphics. An integrated RSS browser is also included for easy access popular data feeds for weather, news, sports and stock information.
HSTouch is IP-enabled and may be used to monitor and control remote HomeSeer installations, including secondary residences. HSTouch is designed to run on Windows®, Windows CE, Linux, iPhone®, iPod Touch, iPad® and now Android devices, ensuring compatibility with the widest range of touchscreens currently available.
Integrators will appreciate the remote deployment functions in HSTouch. Unlike other programs of this type, HSTouch allows projects to be created or edited remotely and then deployed to customer sites without the need for a site visit or service call.
All HomeSeer automation systems are designed to work seamlessly with industry standards and products from leading manufactures such as Cooper®, Schlage, Kwikset, Lutron®, Leviton®, Russound®, Microsoft®, Centralite®, DSC®, Aprilaire®, ACT, RCS, and others. Support for the latest automation technologies such as Z-Wave®, UPB and Insteon® is also included.
The HSTouch Android client is available now in the Android Market.
For the past eleven years, HomeSeer Technologies has been creating some of the most popular and robust automation systems available. HomeSeer Technologies' software and hardware controllers have been installed in thousands of residential and commercial sites. HomeSeer has won numerous awards including TechTV's Best of CES, HomeAutomation top 50, TechLiving's HOT LIST, and was recently selected as a central integration component in all episodes of the hit FOX TV show "Renovate My Family". HomeSeer Technologies web site is HomeSeer.com.
About HomeSeer Technologies
HomeSeer Technologies is a leading provider of home control software based in Bedford New Hampshire. Our software and hardware controllers give users the ability to integrate and automate everything in their home, including lights, appliances, thermostats, audio/video, and media content. Our software is IP enabled, giving users remote access from anywhere in the world. Visit http://www.homeseer.com for more information.
# # #