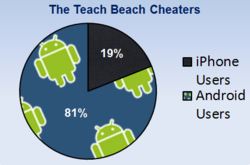 Out of the 300 individuals who attempted to cheat on an assignment, 243 used an Android device.
Logansport, Indiana (PRWEB) October 19, 2011
A new study conducted by The Teach Beach, an online tutoring service, found that Android users are 4 times more likely to cheat on school assignments when compared to iPhone owners.
The Teach Beach conducted the survey by analyzing the mobile device usage from 300 individuals who broke the website's terms of service. A user breaks the terms of service by requesting that tutors complete entire assignments, rather than simply seeking assistance. 243 out of the 300 mobile users who broke the terms were using an Android device.
The Teach Beach President, Eric Calisto, believes that the information is a result of the demographic in need of tutoring services. Studies have shown that Android users are often younger than iPhone owners which could be the reasoning why more Android users were looking for tutoring assistance.
The Teach Beach takes a unique approach to learning by allowing anyone to become a tutor. Tutors make money on an individual question basis based on prices that students set, rather than the tutors charging an hourly rate. Anyone can provide help if they excel in the subject. The Teach Beach has created a policy that students must agree to promising that they will not use the site as a platform for academic dishonesty. The users who broke the terms were removed from the service.
###