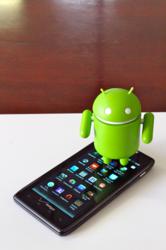 We're excited to host this workshop. The Android platform presents developers with an incredible opportunity to expand the possibilities of application and software development.
San Jose, CA (PRWEB) March 27, 2012
On March 31, 2012, ITU will host a free 1-day training workshop focused on Android Application Development. The full day workshop is an exciting opportunity to preview and explore application development on the fastest growing and largest smartphone platform. The all day event will be held from 10:00AM to 4:00PM with lunch provided. Space is limited to 200 attendees, and interested participants are encouraged to RSVP at http://itu.edu/appdev.
"We're excited to host this workshop," explained ITU spokeswoman Cindy Dinh. "The Android platform presents developers with an incredible opportunity to expand the possibilities of application and software development."
The free all day event will be hosted by Dr. Barbara Hecker, professor of Software Engineering at ITU. Attendees will start by learning how to install and configure development tools. The workshop will continue with attendees learning how to build three exciting programs utilizing the Android GPS mapping, SMS, and database features. Attendees are encouraged to bring their laptop computers (Mac or PC). Some previous programming experience in Java is encouraged, but not required.
Individuals without a background in programming can benefit from this workshop as well.
Attendees to the event are welcome to explore the full range of ITU's educational offerings, to include the more in-depth 12-unit Mobile Device Application Development Certificate. This advanced training certificate program, offered Summer 2012, is targeted towards enthusiasts and industry professionals seeking opportunities to expand their design, programming, and software development skills into the world of mobile application development.
Students will learn how to develop applications on a variety of different device platforms, including iOS and Android based phones, tablets, and other mobile devices. This certificate provides an opportunity for professionals to expand their expertise in one of today's most innovative industries.
To learn more about ITU's Mobile Application Development Certificate, visit http://itu.edu/appdev.
About ITU
With seven solid departments providing top quality academic and practical training, ITU offers exceptional certificate, graduate and doctorate level programs in Electrical Engineering Computer/Software Engineering, Engineering Management, International Business, Interdisciplinary Sciences, and Digital Arts.. All of ITU's programs aim to build competent engineers, engineering managers and business administrators with a deep understanding of cutting-edge theory and hands-on practical application in their respective fields.
ITU is recognized by the Bureau of Private Postsecondary Education (BPPE), and has been granted candidacy status by the Accrediting Commission for Senior Colleges and Universities of the Western Association of Schools and Colleges (WASC)*. This status places ITU among the recognized list of institutions on the U.S. Department of Education's database of recognized institutions of higher learning and the Council for Higher Education's Listing of Accredited and Candidate Institutions (CHEA).

Candidacy for Accreditation is a status of preliminary affiliation with the Commission, awarded to institutions for a limited period following a specified procedure for institutional self-study and on-site evaluation. Candidacy is subject to renewal. Candidacy is not accreditation and does not ensure eventual accreditation. It is an indication that an institution is progressing toward accreditation.