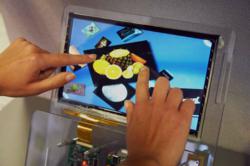 Device manufacturers are recognizing the value of Android in medical, industrial and aerospace products
Austin, TX (PRWEB) June 07, 2011
Touch International announced today that its iPhone-type MulTI-Touch and ExtremeTouch Projected Capacitive touch screen solutions now support the increasingly popular open-source Android™ operating system (OS), making it easier than ever for device manufacturers to incorporate touch technology into new and next-generation devices.
"Device manufacturers are recognizing the value of Android in medical, industrial and aerospace products," explains Gary L. Barrett, Touch International Chief Technology Officer and co-founder. "It was important for us to insure Android compatibility in our projected capacitive solutions so that customers can easily integrate our touch screens into their next generation devices."
Some of Touch International's vertical market customers have already made the switch to Android, saving them money on overall development costs and reducing the time to market, while providing users with a powerful interactive experience.
Initially built for electronic handsets and tablet PCs, the now wide-spread Android system has become the OS of choice with embedded developers because it offers several benefits of traditional Linux® distributions. Considered an "out-of-the-box" Linux solution, Android is a complete package built on top of the Linux platform with libraries for audio and graphics, application framework, and browser and multimedia applications.
About Touch International
Global touch screen manufacturer, Touch International, was founded in 2002 by Michael Woolstrum and touch industry veteran, Gary L. Barrett. Headquartered in Austin, Texas, Touch International is a world leader in touch screen and EMI filter technology. The company, with its partner DMC, Co. Ltd. in Osaka, Japan, operates seven manufacturing facilities worldwide with 1,200 employees. Touch International's factories manufacture Apple iPhone-type projected capacitive touch screens, resistive sensors and glass filter products used in touch screens, EMI, anti-reflective and anti-vandal filters.
###