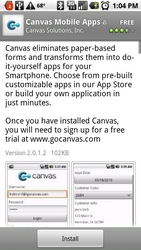 Herndon, VA (PRWEB) April 19, 2010
Canvas Android apps are now available for free download in Google's Android Market. The Canvas Android download opens the door to hundreds more mobile business applications from the Canvas app store. Canvas mobile apps collect valuable business information for businesses and mobile professionals, reducing paper consumption making business more efficient. The Canvas app store offers mobile apps for a variety of industries, including healthcare, government, construction, retail and wholesale distribution. Canvas mobile apps also support a variety of business functions, including sales force automation, field service, inspections, asset management, time, expense and travel.
Free to Download, Free to Try, Fifty Cents to Buy
Canvas is free to download in Android Market and install on any Android phone running Android 1.5 through Android 2.0, Android 2.1, MotoBlur or HTC Sense. To find Canvas in Android Market, click search, then type "canvas" and click go. Canvas may also be found in the "productivity" category of Android Market. Once the download is installed, users are directed to the Canvas web site at http://www.gocanvas.com/sign-up to sign up for a free trial and access to more than 200 Android apps that run on the Canvas mobile app platform for Android phones. All these apps are free to get and use for 30 days. At the end of the 30 day free trial, Canvas costs only $.50 for each form, survey or transaction uploaded to the Canvas web site from an Android phone. Companies and mobile professionals using customized Canvas apps to run their businesses may opt for unlimited use of Canvas at $20 per month or $210 per year. All Canvas service plans support an unlimited number of Android apps for the same low price.
More Ways to Download Android Apps
Canvas can also be downloaded directly by visiting http://www.gocanvas.com/m from any Android browser. Once it is installed on an Android phone, Canvas can automatically download software updates and new apps published from the Canvas mobile app platform.
Android Phone Store
In partnership with LetsTalk.com, Canvas also offers customers the ability to quickly and easily purchase Android phones certified to work with Canvas. The Canvas phone store at http://gocanvas.letstalk.com offers a variety of Android phones, including:

Motorola CLIQ with MOTOBLUR (T-Mobile)
Motorola Devour with MOTOBLUR (Verizon Wireless)
DROID by Motorola (Verizon Wireless)
HTC Droid Eris (Verizon Wireless)
HTC Hero with HTC Sense II (Sprint)
Samsung Behold II (T-Mobile)
Samsung Moment (Sprint)
T-Mobile myTouch 3G with Google (T-Mobile)
About Canvas
Canvas (http://www.gocanvas.com ) makes it easy to publish data collection apps on wireless smartphones and other mobile devices such as laptops, tablets, bar code scanning devices and netbooks. Canvas reduces paper consumption, redundant data entry and excess process for businesses and mobile professionals. The Canvas software service enables mobile professionals to collect information using their mobile devices, analyze that data on the Canvas web site, and share information across their business community. Canvas also offers the first mobile app store of its kind allowing business users to find mobile applications that work on a wide variety of mobile devices, with every application being customizable by Canvas users. Founded in October, 2008, Canvas Solutions, Inc is headquartered in Herndon, VA.
###