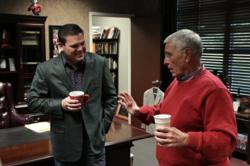 I encourage you to take the Albright Challenge to push yourself to be greater in all things you do, to achieve more than you ever thought possible and to be the best person you can be in your professional and personal life
Raleigh, NC (PRWEB) July 13, 2012
The Albright Challenge was officially released to the public today during the National Agents Alliance's "Key To Tomorrow" Leadership Conference at the Raleigh Convention Center.
The man behind the 90-day leadership and coaching program is Andy Albright, the president and chief executive officer of National Agents Alliance, who has quickly gained exposure as a mentor and leadership coach with organizations such as Keller Williams. Albright also mentors and teaches students involved with the North Carolina State University Entrepreneurship Initiative annually.
The Albright Challenge is a daily program designed to teach and motivate people to reach a higher level in business and in their personal life. Using advanced strategies and techniques, Albright gets people to "move" and plan short- and long-term goals. Each day, those enrolled in the course will receive a video message from Albright and will continue working on goals they set at the beginning of the course during an orientation portion of the course.
"I encourage you to take the Albright Challenge to push yourself to be greater in all things you do, to achieve more than you ever thought possible and to be the best person you can be in your professional and personal life," Albright said in a statement prior to the launch. "I think if you give 100 percent to this 90-day program, you're going to find out that you are capable of doing more than you ever thought possible."
Are there prerequisites to enroll in the Albright Challenge?
Yes, you have to have a desire to be better … in business, personal relationships and all other aspects of life. This program is designed for people who want to grow and keep growing.
Albright consulted noted coaches and trainers like Brian Tracy ("Eat That Frog"), Jack Canfield ("Chicken Soup for the Soul"), Jack McKeon (manager of the 2003 World Series champion Florida Marlins) and Tim Goad (founder Tim Goad International). McKeon personally endorsed the Albright Challenge in a video that can be seen here.
"One thing I've learned is that your attitude determines your altitude," McKeon said. "If you have a good attitude, you are positive and persistent; then you've got a good chance to be successful. Taking Andy's Albright Challenge will help you get started on the road to success."
The Albright Challenge will help you achieve your goals, impact your life and take charge of your future. For more information, please visit this page.